Hannah's style on 'Girls' is tragic. It's also the most relatable part of the show.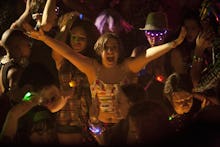 The most iconic moment in Girls history, arguably, happens when Hannah Horvath looks her worst. She's taken some cocaine and is dancing at a New York City club as Icona Pop's ubiquitous bop "I Love It" plays, drenched in sweat (and probably some other liquids), wearing a neon yellow sheer mesh top. 
After dancing, she stumbles into a late-night drug store — as young New Yorkers are wont to do — looking rougher than ever under the fluorescent lights. 
This is the epitome of what Hannah's style has been like these past six seasons. It's a style that is best described with words like "confused" or "odd" or "tragic" or, even, "haphazard." 
While the other main female leads — from Marnie to Jessa to Shoshanna — have all carved out styles of their own, which reflect their own personalities, Hannah has been given a style that reflects her, well, indecision and disarray. 
Her clothes have been too short, or too long. They're too tight, or they're too loose. They stretch in unflattering ways. They bunch. They shift. They've also been wildly inappropriate, like when she wore a bathing suit and nothing else in the Hamptons with her friends, who were fully clothed. 
But as harrowing as it's been to watch Hannah over the past six seasons of Girls, it's also been one of the most realistic depictions on TV of what it's actually like to dress when you're a woman whose size and shape are not often depicted on prestige TV dramas. 
It's not that Hannah's unfortunate clothes are a result of any lack of trying or lack of an inherent sense of style and self. It's more a result of the fact that, on the whole, when you are a woman with a body that's not perfectly proportioned and doesn't come with thin hips and a thin waist, finding clothes that fit can be nearly impossible. 
The clothes do bunch and they do shift. They are often too short and too long and ill-fitting. One day skinny jeans are in. The next: wide-legged trousers. Crop tops had their heyday. Now it's all about the cold shoulder. 
Hannah — and how she looks — is a result of this. 
While Hannah has been defined by her less-than-stellar navigation through relationships, a constant secondary story has also been her navigation through fashion, and all the misery that can bring. 
But unlike the relationships she gets into, Hannah is not obsessed with the fact that her clothes do not fit. She is not obsessed with clothes at all, it seems — merely wearing things she thinks are OK and cool and fun. 
And because of that, it should be celebrated. Not all of Hannah's outfits have been terrible. This was a cute dress. 
And this was a cute blouse. 
But a strong majority of her clothes have been horrendous, which is OK too. Given her options, more power to her. 
A few examples of this: This very ill-fitting corset (?) shirt (?) she wore while doing cocaine in season two. 
Or this romper with major crotch issues, also in season two. 
In season three, she earnestly put these two pieces together.
According to Girls' own costume designer, Jenn Rogien, these wrinkles and bunches were purposeful in trying to get across the idea that Hannah's life was in disarray in the first few seasons. 
"Certainly in the first couple of seasons when we were paying a lot of attention to reflecting how scattered Hannah was very much through the fit of her clothes," Rogien told Fashionista. "And sometimes that was reflected in a hem length: too short, too long, hit at an awkward place on the leg or we'd play with or drop the waist line to make them hit at not quite the right places, that literally just looks rumpled and off. ... And there were some moments where I'd actually ask for things to be dropped into the bottom of a garment bag so that they would look like they came from off the floor the next morning because that was very much where Hannah was in her journey." 
Come season four, Hannah's clothes got better, but still, we got this. 
And in season five we got this. 
And in season six, with Hannah's — *spoiler alert* — pregnancy, we got her in overalls. (No shade to overalls though.) 
But still, through it all, she maintained a very clear sense of confidence, which didn't depend on clothing at all. While she doubted so many things — Adam, her friendships, her parents' wisdom — she never doubted her sense of style. That was one thing she always seemed to be sure about, and that's really a victory. 
She's got bigger, better things to worry about anyway.