20-year-old Virginia man accused of writing "Hitler was right" on Jewish community center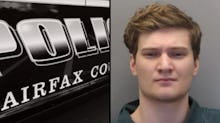 A 20-year-old Annandale, Virginia, resident has been arrested in connection with three "hate-motivated incidents," according to a statement released Thursday by the Fairfax County Police department.
Dylan M. Mahone is believed to be behind the anti-Semitic and anti-Muslim graffiti discovered this week at the Jewish Community Center of Northern Virginia and the Little River United Church of Christ, as well as a rash of anti-Semitic flyers distributed on the campus of Northern Virginia Community College in March.
The JCC was vandalized Monday night and discovered Tuesday morning, NBC Washington reported. Monday was the first night of the Jewish holiday of Passover. The hateful messages included "Hitler was right," a swastika and an "SS" symbol spray-painted on the building's exterior.
"As painful as this is, it's even more painful for it to happen on Passover," the JCC Northern Virginia's executive director Jeff Dannick told NBC Washington.
The Little River United Church of Christ was also vandalized and "Defend America; No Muslims, was written on the church's door.
According to the statement from Fairfax County police, investigators have video footage of at least one incident. Police arrested Mahone at his home Wednesday and later charged him with two counts each of felony destruction of property, "placing a swastika on religious property with the intent to intimidate" and "wearing a mask in public to conceal one's identity."