GOP Sen. Mike Crapo bragged about doing 200 town halls. Now, he's nowhere to be found.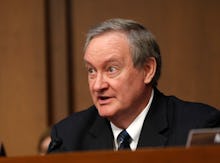 Sen. Mike Crapo wants you to know how many town halls he's held with constituents. Between October 2014 and September 2016, Crapo held 200 town hall meetings, trekking all across 83,000 square miles of Idaho in order make sure that he held at least one meeting in every single incorporated town in the state. The tour came with its own section on the senator's website, a bevy of green dots pockmarking a map of Idaho all the way from its border with Utah to the northern tip of the panhandle. 
And yet in 2017, Crapo has avoided exactly the type of direct contact with constituents that town halls are supposed to provide. His last forum with voters was before the November election. And Idaho voters are becoming frustrated that their calls for town halls are being ignored.
One constituent-cum-activist even tried to get in touch directly with Crapo to request a town hall — but was rebuffed by a staffer. 
"He said that people hadn't expressed an interest in holding a town hall," Indivisible Idaho director Sarah Clemens said. However, the staffer was wrong: "You have people from all different kinds of groups. You have letters to the editor saying, 'Hey, we want to talk to you.'" 
Members of Indivisible, a grassroots organization that pressures members of Congress to meet with constituents, and others have repeatedly called on Crapo and other members of Idaho's congressional delegation to hold town halls, organizing protests, phoning their members' offices en masse and visiting their state offices to meet with congressional staff. 
Some activists have even taken to posting wanted photos of Crapo in downtown Boise, featuring a mugshot photo from the Mormon senator's embarrassing 2013 drunk-driving arrest.
Only a few years ago, Crapo all but crowned himself the king of town halls. In 2014, Crapo launched a 22-month tour of Idaho, holding 200 town halls across the state. During that two-year period, he held 30 town halls in a single month. Crapo's official website still directs visitors to the section on "town halls," with a map of all the places he's held meetings across the state.
"The Idahoans I have encountered during these town meetings reinforced my belief that the best solutions for good governing come from the ground up," Crapo said in a statement about the tour in August 2016. "The common sense we have in Idaho is what is needed back in Washington, D.C." 
In February, Crapo told a local news outlet that he would hold a town hall but just hadn't decided when. But now, three months later, Crapo still hasn't scheduled any new town halls, and his office said he has no plans to hold one during the current recess.
"Sen. Crapo did not say he is going to have any town halls this recess nor is he going to have any," a staffer said by phone. "In the event we do have one, it will be published on our website."