An 'Apprentice' alum running for office in NJ loses GOP support after lurid video surfaces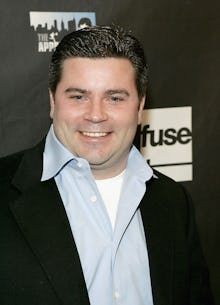 Some New Jersey Republicans are withdrawing their support of Brian McDowell, a former Apprentice contestant running for the New Jersey state legislature as a Republican, after a video surfaced of him drunkenly propositioning a woman at a Jersey Shore bar.
"Let me tell you right now," McDowell tells a woman at a bar in Wildwood, New Jersey, according to Politico. "You should fuck me. It would really be good. Listen, you never know."
The leaked video led the Cape May County Republicans to renege their endorsement of McDowell — a businessman who was the Cape May County coordinator on President Donald Trump's campaign in New Jersey.
McDowell's drunken bar conversation is not the first damaging incident from his past.
McDowell told Politico his ex-girlfriend filed for a restraining order against him after he proposed to her on a SEPTA bus — part of Philadelphia's public transportation system — more than a decade ago.
"Back about 12 years ago, maybe 14 years ago, I proposed to my ex-girlfriend on a SEPTA bus in Philadelphia," McDowell said. "She didn't like that. She considered it harassment. She filed a restraining order against me. It was later dismissed and we went on to have two kids together in a relationship that lasted 10 years."
McDowell was also arrested at a 2008 World Series game between the Philadelphia Phillies and the Tampa Bay Rays for trespassing, he said.
"I might use the mugshot as my campaign official picture," McDowell told Politico.