When will 'The Last Jedi' trailer be released? Rumors from the 'Star Wars' Celebration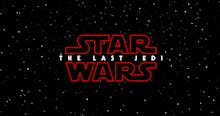 In 1977, a small science fiction film called Star Wars — perhaps you've heard of it — was released in theaters. And a global phenomenon was born. Now, 40 years later, Star Wars is arguably the greatest film franchise in history, with a fan base that spans the globe. 
Since the franchise began with Star Wars: Episode IV - A New Hope, it has grown to include eight additional feature films, video games, television series, comic books, novels and much more. 
To celebrate 40 years of cinematic achievement, Orlando, Florida, is hosting the 2017 Star Wars Celebration, which includes a jam-packed panel of guests from Mark Hamill and Harrison Ford (who made a surprise entrance) to George Lucas and Kathleen Kennedy. And on top of all the stories that have been, and may be, told about the historic franchise, perhaps the most anticipated moment of this year's celebration is the Star Wars: The Last Jedi panel. 
With Star Wars taking center stage in Orlando, it is only natural to wonder when the first teaser trailer will drop for the highly anticipated eighth film in the main saga. That time may come on Friday, as the Star Wars: The Last Jedi panel will take place from 11 a.m. to 12:30 p.m. Eastern. 
While it has not been explicitly revealed that there will be a teaser for The Last Jedi, it is no stretch to assume there will be some sort of footage for the first time as part of the big celebration, especially since the official summary for The Last Jedi panel assures "plenty of surprises." 
Lucasfilm President Kathleen Kennedy and Star Wars: The Last Jedi director Rian Johnson will appear on stage. There will be plenty of surprises and special guests on the panel to keep the excitement brewing and speculation spinning throughout the rest of the weekend.
While major plot points for The Last Jedi have been kept under wraps, the film is expected to pick up immediately after the events of 2015's smash hit, The Force Awakens. We will thus likely see Luke Skywalker as he begins training Rey as a Jedi. Whether we see more of Luke in footage on Friday, on the other hand, is uncertain. But one can hope.
Mic has ongoing coverage of Star Wars. Please follow our main Star Wars hub here.