Abigail Breslin reveals she's a survivor of sexual assault on Instagram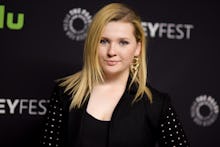 Actress Abigail Breslin spoke out about her experience with sexual assault for the first time on Tuesday in an Instagram post featuring the definition of the word "consent." 
"You are not obligated to have sex with someone that you're in a relationship with," the post reads. "Dating is not consent; marriage is not consent." 
In the photo's caption, Breslin wrote, "I knew my assailant."
Instagram users offered their support to Breslin in the comments, with some even sharing their own stories of acquaintance rape, which makes up about 70% of all sexual assaults committed.
Despite the prevalence of acquaintance rape, mainstream conversations about sexual assault usually rely on narratives about violent stranger rape, making it seem more common than it actually is. In January, a New York City police officer even suggested stranger rape is worse than acquaintance rape, saying, "If there's a true stranger rape, a random guy picks up a stranger off the street, those are the troubling ones. That person has, like, no moral standards."
"My ex-boyfriend, last year got me drunk, and took my silence as a 'yes,'" one Instagram user wrote. "Battled with it for a year, being told that because I had sex with him at one point I had to have wanted it. It's important that we speak up and fight for those who cannot."
Breslin, who'll star in ABC's remake of Dirty Dancing, thanked her fans for their kind words on Twitter.
"So beyond thankful [for] the immense support regarding my IG post last night," she wrote on Wednesday. "I am so lucky to have all of you kind souls in my corner."