In one day, Trump flip-flopped on 4 key campaign talking points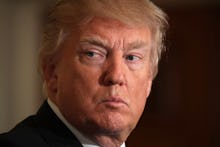 NATO is "no longer obsolete."
Those were the words of President Donald Trump after meeting with NATO's secretary general on Wednesday. His remarks were a stunning about-face from his previous statements on the international alliance. 
"I complained about that a long time ago and they made a change, and now they do fight terrorism," Trump continued. "I said it was obsolete. It's no longer obsolete."
The flip-flop capped off a 24-hour period of bizarre reversals on positions Trump held throughout the 2016 presidential campaign. Here are three other examples, all from the same Wall Street Journal interview, that are leaving us just as speechless as Anderson Cooper.
China and currency manipulation
Trump's current position on China is simple: "They're not currency manipulators."
This may come as a surprise to Trump supporters, who saw him promise during the campaign to label the country a currency manipulator on the first day of his presidency. He even made the promise in a Wall Street Journal editorial, the same publication to which he later announced China wasn't, in fact, a currency manipulator.
"It would be hard, these days, to find an economist who feels China fits the bill," the New York Times' Eduardo Porter wrote.
It's worth noting China didn't meet the existing U.S. criteria when Trump made his original claim.
Export-Import bank
Trump was opposed to the Export-Import Bank at the beginning of 2017. 
But behind the scenes, he was reportedly telling Democratic senators in February that he would support the bank.
Now, he's telling the public what Democratic senators already knew: 
It turns out that, first of all, lots of small companies are really helped, the vendor companies [...] Instinctively, you would say, 'Isn't that a ridiculous thing,' but actually, it's a very good thing. And it actually makes money, it could make a lot of money.
A "very good thing." That's Trump's new official position.
Janet Yellen
During the campaign, Trump was already threatening to send Federal Reserve Chairwoman Janet Yellen packing. 
After first calling her "capable," he added, "She is not a Republican. When her time is up, I would most likely replace her because of the fact that I think it would be appropriate." 
This is seemingly no longer important to the president, as Yellen is under consideration for renomination. "I like her. I respect her," Trump told the Wall Street Journal. "I do like a low-interest rate policy, I must be honest with you."
Yellen's four-year term ends in January.