Military women plead with Facebook to address the continued spread of revenge porn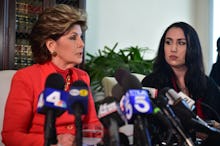 Seven weeks after the Marines United revenge porn scandal broke, an advocacy group for women in the Marine Corps sent Facebook a scathing letter urging COO Sheryl Sandberg to do more to remove the groups dedicated to sharing nonconsensual nude photos. 
In the letter, Not in My Marine Corps co-founder Erin Kirk-Cuomo — a Marine combat veteran of Iraq and Afghanistan — said Facebook's newly announced tools to prevent nonconsensual photo-sharing were a step in the right direction in stemming the widespread sharing of revenge porn. However, the new policy has failed to address the removal of open or private Facebook groups that continue to engage in the explicit photo sharing of current and former women service members, wives, girlfriends and unsuspecting civilians, Kirk-Cuomo added.
"Facebook has been negligent in removing pages, groups and users, that actively promote non-consensual intimate photo sharing and incite sexual violence and harassment," Kirk-Cuomo wrote Sandberg. "For Facebook leadership to publicize their value to the military family, then ignore its complicity in the misconduct perpetrated by its users, is, at best, naive. At its worst, this failure directly contributes to the inescapable sexism that is part of the military culture."
Facebook has yet to respond to Not in My Marine Corps' letter. 
The revenge porn keeps spreading — and now it's reached the Dark Web
One new revenge-porn page is Marines United (214), a private forum with nearly 5,000 members. It's named after the original Marines United Facebook group that was caught sharing nude photos of service members and civilians. Marines United (214) existed before the scandal broke, and the group changed its name to capitalize on the original group's notoriety.
A source inside the 214 group said in an encrypted email that when group members request links to shared drives of photos, possible spammers respond with demands for payment or links to a Dark Web marketplace, which is advertising large files (31.8 GB) of sexually explicit photos and videos of service members. This post below is believed to be from a non-military account.
Not in My Marine Corps routinely reports the page — and Facebook's response has been disappointing
Six members of Not in My Marine Corps formed in the wake of the Marines United scandal have been reporting images on Marines United 214 daily. One member has reported the group to Facebook over 500 times, Kirk-Cuomo said.
In this instance, Facebook replied with an automated response: "Though it doesn't go against one of our specific Community Standards, we understand that the group or something shared in it may still be offensive or distasteful to you."
Facebook did not immediately respond to Mic's request for comment about the group.
Facebook unveiled a new plan to address revenge porn
Facebook announced April 5 that it would introduce better tools for fighting against revenge porn. Facebook said it will use photo-matching technology to "help thwart further attempts to share the image on Facebook, Messenger and Instagram. If someone tries to share the image after it's been reported and removed, we will alert them that it violates our policies and that we have stopped their attempt to share it."
Also, Facebook is partnering with the Cyber Civil Rights Initiative, a non-profit formed for research into and prevention of revenge porn, to aid victims of nonconsensual photo-sharing and study its effects. 
CCRI's head of research, Asia Eaton, told Mic the harms of revenge porn are both physiological and psychological.
"The effects of revenge porn on the individual are grave and extensive," said Eaton, an assistant professor of psychology and women's and gender studies at Florida International University:
"Revenge porn, unlike other forms of partner violence, is something that continues to injure the individual over time. Unlike an instance of verbal abuse, non-consensual porn spreads very quickly and is difficult to remove, and it often costs money to take down. When victims go to the social media company or the police and ask for help, there's often nothing they can do."
Eaton helped run the 2013 study of 3,000 users that Facebook cited in its April 5 press release. She said it showed the depths of emotional harm experienced by victims.
"We asked individuals about their experience with revenge porn, and we found that both men and women had significantly worse mental health outcomes, and they had higher levels of … physical ramifications," Eaton said. "The case studies and evidence all point to revenge porn being a form of sexual violence."
Legislators are taking notice — and taking action
Kirk-Cuomo attended the Democratic Women's Working Group hearing on non-consensual photo-sharing earlier this month with a panel that included a female Marine veteran, an active-duty female Marine, and their lawyer, Gloria Allred. The hearing was organized by Rep. Jackie Speier (D-Calif.), a fierce advocate for women in the military. (Disclosure: James LaPorta was asked to speak on the panel as well.)
"We are not going to allow Marines to be treated this way," Speier said. The California Democrat, long an advocate for women in the military on issues such as sexual assault, introduced the Servicemember Intimate Privacy Protection Act in March as an attempt to close the revenge-porn gap in the Uniform Code of Military Justice. She said she plans to reintroduce SIPPA shortly, and she supports a federal revenge-porn law.
Arizona Rep. Martha McSally, a retired Air Force colonel and former fighter pilot who chairs the Women in the 21st Century Workforce working group, also introduced a bill to better address non-consensual photo sharing in the military: the Protecting the Rights of Individuals Against Technological Exploitation Act, or PRIVATE. Speier's office said she welcomed McSally's bill but was concerned about its requirement to prove malicious intent.
Speier and Allred each said non-consensual pornography has been a problem for the Marine Corps since 2013, or earlier.
In briefing materials prepared for the Women's Working Group hearing, Speier's office wrote, "The Marine Corps has been aware of this type of site for many years. In 2013, Congresswoman Speier discovered a public Facebook page ([called] F'N Wook) that depicted the same types of images. She wrote to Defense Secretary Chuck Hagel and Marine Commandant James Amos at that time demanding action. She received a written reply from [Amos] stating, 'We share your indignation' — but then went on to refer to the attacks as an IT problem."
Kirk-Cuomo said the Marine Corps' response has been no more responsive or effective than Facebook's. "Over the month since this scandal broke, nothing has changed in terms of this behavior," she said in a phone call. "It has not prevented new pages, new hard drives, new avenues to engage in more of this non-consensual photo-sharing and online harassment of women."
"This hasn't gone away," she said.