The US just dropped a MOAB — the so-called "mother of all bombs" — on Afghanistan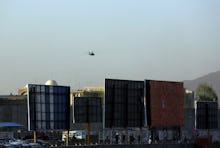 The United States military deployed a Massive Ordnance Air Blast Bomb — known as the "mother of all bombs" — in Afghanistan on Thursday, military officials told CNN.
The strike was a coordinated attack against ISIS tunnels and personnel in the country's Nangarhar province.
MOAB is America's largest non-nuclear form of munition, and can be guided by GPS, according to CNN.
In a statement, the U.S. military said that the bomb was dropped around 7:30 p.m. local time. 
"As ISIS-K losses have mounted, they are using IEDs, bunkers and tunnels to thicken their defense," Gen. John Nicholson said in the statement. "This is the right munition to reduce these obstacles and maintain the momentum of our offensive against ISIS-K."
Thursday marked the first time that MOAB munitions, which were first developed during the Iraq War, have ever been used in battle.
This story is breaking and will be updated.