Sheila Abdus-Salaam: Latest updates on the investigation into pioneering NY judge's death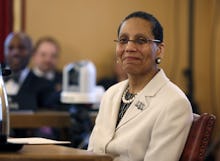 April 17, 2017, 11:40 a.m.: In the days after Sheila Abdus-Salaam's death, early reports that she was a practicing Muslim began to be called into question. At least one person who knew Abdus-Salaam told reporters that she had said she was not. However, BuzzFeed reported that Abdus-Salaam had at one point joined the Nation of Islam, and although she reportedly left the Nation after separating from her first husband, some close to her believed she may have "quietly associated with Islam." In the absence of definitive answers to questions surrounding Abdus-Salaam's faith, Mic is not updating references to her as Muslim woman. Mic's original story appears below.
Sheila Abdus-Salaam, the first female Muslim judge in U.S. history, appears to have died by suicide, multiple outlets reported Thursday.
The 65-year-old judge experienced depression, a police source told the New York Daily News. 
Law enforcement told told CNN she had been stressed at work and that her brother had died of suicide three years ago around the same time.
Abdus-Salaam was reported missing by her husband Tuesday. She was found dead in the Hudson River in New York, not far from her Harlem home, on Wednesday afternoon. She was fully clothed, and her body showed no signs of trauma or injuries.
Abdus-Salaam began serving on the New York Court of Appeals in 2013, becoming the first African-American woman to be confirmed to the state's highest court, according to the New York Times. She was also the United States' first Muslim judge.
Following the announcement of her death, Abdus-Salaam was mourned as a pioneer and a champion for justice.
"Judge Sheila Abdus-Salaam was a trailblazing jurist whose life in public service was in pursuit of a more fair and more just New York for all," New York Gov. Andrew Cuomo said in a statement. Cuomo described her as "a force for good whose legacy will be felt for years to come."
CNN reported the medical examiner will determine Abdus-Salaam's cause of death.