Chance the Rapper's life story told through 24 of his best lyrics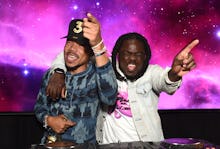 In his 24 years on planet Earth, Chance the Rapper has already experienced and accomplished more than many human beings dream of doing in their entire lives. Using his largely self-built platform, the Chicago native has raised millions for his city's public school system, re-inspired young voters, helped make it safe to talk spirituality in public again and saved Kanye West's The Life of Pablo from being a total arty, angsty mess.
How did he gain such powers? How did he achieve such perspective? Some of the answers lie in his lyrics. 
To help celebrate his birthday on Sunday, April 16, we've gathered some of the most insightful looks at his own past, which he's delivered on his three stellar mixtapes. While he celebrates in Chicago — throwing his Chance the Birthday party and raising money for his Social Works charity fund — give a read over some of the rapper's finest introspective moments that have made him the rapper and the man he is today.
Mama Jann, mama Charlie, and my mama Lisa
On his 10 Day trip down memory lane, "Nostalgia," Chance the Rapper shouts out to all the women who helped raise him — Mama Jann, Mama Charlie, Mama Lisa and Auntie Linda. He offers a vision of how he found this sense of God-given gratitude at an early age.
This is for sand in my shoes, shout out to Oak Street
Remember I used to bang with the bad ones
Chance the Rapper has spoken extensively about how his grandmother helped set him on the right path. In his GQ profile, he told a story about how his grandmother essentially cursed him in a prayer after she had gotten fed up with his frequent drug use and lax attitude toward life:
She looked me in the eyes and she said, "I don't like what's going on." She said, "I can see it in your eyes. I don't like this." And she says, "We're gonna pray." And she prayed for me all the time. Like, very positive things. But this time, she said, "Lord, I pray that all things that are not like You, You take away from Chance. Make sure that he fails at everything that is not like You. Take it away. Turn it into dust."
I wonder if Gladys smiles when angels bring my name up
I'm off a lot, they gave me 10 days off
The 10 Day tape was born out of a 10-day suspension Chance suffered in high school for smoking weed. He gives the most straightforward account of that origin story in "22 Offs."
Graduation night teachers Ferris Bueller'd my name
10 Day-era Chance had a bone to pick with the teachers who never believed in him. Yes, maybe he couldn't get school to work out for him, but he's working harder at his calling than anyone else. The mixtapes paid off.
Before we dip, Gladys said a prayer over the limo
Ms. Brown and Ms. Pollock, little boy done grown up
Balancing on sporadicity and fucking pure joy
Donald Glover — aka Childish Gambino, aka Troy from Community — was one of the first artists to recognize Chance the Rapper's talent. After hearing 10 Day, he invited Chance to come on tour with him. The two have collaborated on two songs: Chance's "My Favorite Song" and Gambino's "The Worst Guys."
It just got warm out, this the shit I've been warned 'bout
Some of the most disturbing and resonant bars Chance the Rapper has ever offered about mortality, his fears and Chicago's ills hide in the back half of "Pusha Man/Paranoia." A friend of Chance's was stabbed to death in front of him in September 2011. By this song's account and others', it was a wake up call for the rapper to put his career in motion or risk seeing his life snatched from him before he could make something of it.
Used to like orange cassette tapes with Timmy, Tommy, and Chuckie
Jack and Lindsey, Wiley, Kembe
In this shoutout to some of his childhood friends and collaborators, Chance boasts that the money he's made off 10 Day could help pay his friends' way through college, serving as their personal Federal Application for Federal Student Aid.
I slurped too many pain-kills down, I'm off a lot
Chance the Rapper had some trouble with addiction to pain pills for a brief spell in 2014 after Acid Rap launched him to heights of fame he wasn't ready to cope with, as detailed in his 2016 GQ profile. These lines in "Everybody's Something" seem to suggest the seed of that struggle were sewn a bit earlier.
What's better than tripping is falling in love
I miss my diagonal grilled cheeses
Another vision of Chance's childhood: filled with grilled cheeses and MJ.
Mom still thinks I should go back to school
Still a chain smoking
Tryna turn my baby mama to my fiancée
In Chance's Coloring Book opener, he gives a heartfelt ode to Kristen Corley, his ex-girlfriend and the mother of his daughter, giving perhaps one of the most honest and openhearted well wishes one lover could offer to another.
Oh I used to kill 'em with the long hair
Chance the Lawn Mower is no more. The work has changed, as Chance illustrates in "Summer Friends," but the work ethic is the same.
Ain't no blood on my money, ain't no Twitter in Heaven
Clean up the streets, so my daughter can have somewhere to play
There are two parts to this Chance the Rapper mission statement. In the first, he dedicates himself to helping his city so his daughter can play safely. In the second, he pledges to remain dedicated to his music, not tossing his tassel for an easy deal or a ride to "Hillman," a fictional college that appears in The Cosby Show.
My village raised 'em a child
Last year got addicted to xans
I speak to God in public, I speak to God in public
On Coloring Book's final track, Chance offers a full vision of his past, present and future, with bars that incorporate his faith, his high school fuckup origins and his continued dedication to the independent hustle. Thank God for Chance the Rapper.
More Chance the Rapper news and updates
Mic has ongoing coverage of Chance the Rapper's stellar career. Consider starting with the story of his rise from high school fuck-up to one of Chicago's artistic elite. Read up on his 2015 releases, including his Social Experiment single "Hiatus (Broadcast)" and Surf, as well as a review of his uplifting Coloring Book. Check out his march leading Chicago youths to the polls and his a recap of his Grammys victory lap.