'Star Wars' Celebration 2017: Fans celebrate Carrie Fisher with a touching tribute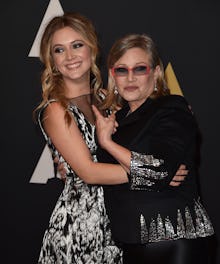 For fans of Star Wars, April 13 to April 16 may just be the best four days of 2017 — outside of the opening weekend of Star Wars: The Last Jedi, of course. 
What makes those days so special? Well, it is the 2017 Star Wars Celebration, a tribute to 40 years of a galaxy far, far away. And while the festivities are meant to be celebratory in nature, nobody can ignore the loss of one of cinema's greatest icons: Carrie Fisher. 
The internationally recognized actress, author and activist died suddenly of a heart attack in December, shocking fans around the world. At the time of her death, Fisher had already finished filming her scenes for her turn as General Leia Organa in Star Wars: The Last Jedi. Fisher was also expected to have a larger role in Star Wars: Episode IX, but will now appear through previously shot footage. 
During the first day of the Star Wars Celebration, Fisher's former colleagues and friends remembered her tremendous influence on both the franchise and the film industry as a whole. Near the end of the first panel, Carrie Fisher's daughter, Billie Lourd, surprised the audience when she appeared onstage  to recognize her mother and introduce a touching tribute to the iconic actress. 
You can watch the tribute, which features clips from the films, behind-the-scenes outtakes and interviews, below:
Mic has ongoing coverage of Star Wars. Please follow our main Star Wars hub here.