What time is Kendrick Lamar's Coachella set? How to pass the time camping out in front.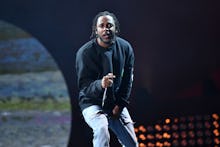 California native Kendrick Lamar will be hitting the main stage at the Coachella festival Sunday and April 23. His set times for both weekend performances are 10:35 p.m Pacific. The rapper, who rolled out his fourth studio album Damn. on Friday, will likely perform new songs from the record, including his hit "Humble." Lamar is also the final artist to play at the Coachella main stage on Sunday, so any fan planning to be front and center to watch him perform will likely have to camp out. Here are a few ways to pass the time.
1. Make new friends
Talk to other festival attendees. People are coming from all over to experience music and now is your chance to connect with new fellow Kendrick stans. Also, if the crowd begins to swell, you'll need to have an alliance of people to help you hold down your front spot. This is a great way to start. 
2. Watch the other artists' performances
This is a pretty obvious one because you have no choice but to watch artists on the main stage before Lamar comes out. With that said, get familiar with their popular songs, so you'll be ready to jam out with other fans. Lorde, Porter Robinson & Madeon, Grouplove, Toots and the Maytals, and Lee Fields & The Expressions are performing on the same day as Lamar. 
3. Tag team
Of course you'll need to use the restroom or grab food or drinks, so having friends hold down the spot in between those runs are a way to take a break from waiting at the front. 
4. Read or watch a movie
In between sets, catch up on reading that book you've been trying to finish. For those who carry portable chargers, watching a movie or web series on your phone to help pass time is also an option.
How to livestream Kendrick Lamar's Coachella performance
Additionally, for those who can't fly out to Indio, California, to enjoy live music in the sun this weekend, a livestream is available on YouTube of K. Dot's performance. According to the livestream schedule, Lamar's performance will begin at 10:45 p.m. Pacific (1:45 a.m. Eastern). Check out more information about watching online here.  
Mic has ongoing Coachella coverage. Please follow our main Coachella hub here.