These 7 resume mistakes are why you aren't getting a job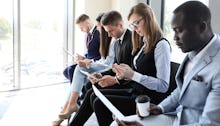 Writing an awesome resume is key to finding your dream job, but crafting the perfect resume can be hard since you never know exactly what will impress a recruiter. 
Overselling your accomplishments can make you seem disingenuous. But being too humble can backfire too, as employers want to know that you can produce real results  And even a single typo can make a recruiter hit the delete button on your application.
Here are seven common resume mistakes — and how to avoid them:
1. Choosing the wrong kind of resume
Yes: There are different kinds of resumes. If you have a decent amount of relevant experience, a chronological resume that starts with your most recent job makes sense. Most job-seekers default to this format because it's what they're used to seeing. 
But what if you just graduated from college or are switching fields? In that case, a skills-based resume may make more sense. "Switching to a skills based resume from a traditional resume format can help job seekers better highlight experiences and de-emphasize job gaps," according to a Wall Street Journal interview with Maryanne Perrin, co-founder of Balancing Professionals.
The point is to play to your strengths and set yourself apart from the competition — in a good way. "You can give employers the same information, only in a new and improved package. This is bound to get you more interviews, which will increase your chances of landing the job you want," according to Monster. 
2. Making your resume one-size-fits-all
Did you write up one awesome resume and send it to every job posting you can find? All-purpose resumes are easy for hiring managers to spot, according to Career Builder. And yet, 54% of all job-seekers don't write a personalized, customized resume for each employer. 
If you're not tailoring your resume to each job you apply for, it can look lazy. You also lose the chance to emphasize that you have the specific skills the employer wants. 
Use your basic resume as a template, then take a few minutes to ensure your resume speaks directly to the person you're hoping will hire you. "Find the experience that would make [the hiring manager] most excited about your application, and rework the document so that's what's at the top," The Muse advised. 
In short? A generic resume makes you seem generic.
3. Including errors you don't even know are errors
If your resume contains mistakes, an employer is much more likely to toss your resume on the discard pile.  In fact, 75% of executives said two typos would be a deal-breaker, while 40% said they wouldn't hire a candidate with even a single typo, according to PR Newswire. 
If you can't even produce error-free work before you're hired, the employer will have every reason to believe you'll be careless on the job too. Be sure to proofread your resume, rather than counting on spell check alone.
Check for common mistakes like using the wrong form of word  — think compliment vs. complement — and consider having a friend read it over in case you overlooked something; you might learn a thing or two.
4. Getting too fancy with your formatting
While you want the right type of resume to show off your skills, stick to some type of standard format, use a normal font and print your resume on plain white paper. 
Sending a pink, scented resume may have worked for Elle in Legally Blonde, but getting fancy with colors or trying out cute gimmicks is unlikely to work in the vast majority of fields. There's a fine line between clever and annoying.
"Stunts may catch an employer's attention, but they can also backfire and cost you the job," Rosemary Haefner, CareerBuilder's vice president of human resources told Forbes. "Employers like creativity, but they also want to know that you're serious about the opportunity."   
5. Leaving off key skills
It's important your resume show an employer you have the skills to excel in the particular job. Read the job description to find out what the employer is looking for and think beyond the job ad. Look at lists of in-demand skills or check out job descriptions for the particular profession to find key skills for your chosen career. 
Be specific. Employers "look for resumes with accomplishments, results and keywords that describe what they're looking for. To address these employer needs, it's important to include measurable results and achievements in your resume," AARP Foundation advised. 
If you can show concrete proof, do it. Instead of just saying you have good sales skills, include details about how you beat sales quotas for six months at your old job or about the award you received for having the best sales numbers in your department. 
6. Focusing on the wrong stuff
Many people list duties on a resume, but this is actually the wrong approach. An employer doesn't want to just know what you've done  — they want to see how well you actually did it.  
Employers want to know "what you've accomplished in your various activities," Monster career coach Peter Vogt advised. Instead of saying you "Answered incoming calls," specify that you "Successfully operated a 20-line switchboard system, connecting calls to appropriate departments."
The more you can show off how successful you've been, the stronger your resume will be, and the greater the chance you'll get hired.
7. Making your resume too long
The appropriate length for your resume can depend on your career history. New college grads should keep their resume to one page, while seasoned professionals can stretch it to two pages, according to CBS News. 
You don't need to list every job, every award or achievement over your lifetime. Identify the jobs and accolades most relevant to the position you want.
With the right jobs listed on a customized, error-free and unscented resume, you'll be well on your way to landing an interview — and maybe even getting the job.
Sign up for The Payoff — your weekly crash course on how to live your best financial life. Additionally, for all your burning money questions, check out Mic's credit, savings, career, investing and health care hubs for more information — that pays off.