Donald Trump gives states green light to withhold funds from Planned Parenthood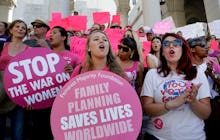 President Donald Trump took a big swing at Planned Parenthood on Thursday, signing off on legislation that would allow states to withhold Title X funds from abortion providers.
Vice President Mike Pence had all but sealed the deal on March 30, when he cast the deciding vote both in a procedural vote and in the final vote landing the bill on Trump's desk. 
Title X funds go toward services like cervical and breast cancer screenings, birth control, STI treatment and well-woman exams — not abortion, thanks to the Hyde Amendment, which bans any federal dollars from funding abortion services.
Nevertheless, the Trump administration was happy to move forward with a measure that Planned Parenthood says impacts more than four million of their patients. 
"Planned Parenthood strongly opposes President Trump's willingness to undermine millions of women's access to birth control through the Title X family planning program," Dawn Laguens, executive vice president of Planned Parenthood Federation of America, wrote in a press release. "Four million people depend on the Title X family planning program, and by signing this bill, President Trump disregards their health and well-being."
Some states have already reaffirmed their commitment to Planned Parenthood, maintaining they will continue fund the clinics even if Congress won't.
On Friday, Maryland legislators — without the signature of Gov. Larry Hogan — passed a law that requires the state to reimburse Planned Parenthood of any funds denied to it by the federal government, effectively making the funding of Planned Parenthood law. 
Trump, however, offered the clinic a chance to earn back its federal funding. In March, the president dangled $550 million over Planned Parenthood's head if the clinic agreed to stop performing abortions.
It was a no for Planned Parenthood President Cecile Richards. 
"That is just not going to happen," Richards told the New York Times. "We would never abandon the women who count on us in exchange for cash."