US Bombs ISIS: Here's Trump's statement after US drops MOAB on Afghanistan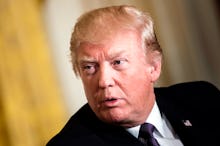 President Donald Trump praised the military mission that dropped a Massive Ordnance Air Blast bomb on Afghanistan on Thursday, calling the strike "another successful event."
"Very, very proud of the people, really another successful job," Trump said during a White House meeting with first responders from Atlanta. "We're very, very proud of our military."
Trump, however, was evasive when asked whether he personally authorized the strike using the "mother of all bombs," which has a blast radius of about 1 mile. The bomb is the most powerful non-nuclear weapon in the U.S. military arsenal, and had never been used in battle until Thursday, CNN reported.
When asked point-blank whether he authorized the bomb, Trump said, "Everybody knows exactly what happened."
"What I do is I authorize my military," Trump added. "We have the greatest military in the world, and they've done a job as usual and I've given them total authorization."
U.S. officials said the bomb was dropped on a cave and tunnel used by ISIS.