'Real Boxing Manny Pacquiao' Release Date: Feature info for Vivid Games' new mobile game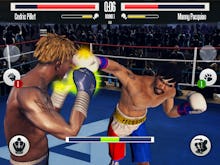 Vivid Games is set to launch a new title in its Real Boxing series, but this time one of the greatest fighters in history has his name attached to the title. Real Boxing Manny Pacquiao is set to release on Android and iOS platforms on Thursday, April 20. 
Real Boxing Manny Pacquiao: Everything you need to know
In this game, you'll be able to play as Pacquiao in all modes. There's also the ability to create and customize a character with new clothes and Pacquiao-branded equipment. There will be online tournaments, which is a slight tweak to the game's control scheme and a variety of single-player modes. From the screenshots provided, it's also clear the visuals have taken a step up in clarity and vividness (no pun intended). 
The mobile format may not be exactly what virtual fight fans are craving in a new boxing video game, but perhaps the arrival of this kind of title keeps hope alive that the sport will one day make it back to consoles.
More sports gaming news and updates
Are you a sports gamer? Check out more content from Mic, including tips for leveling up your NBA 2K17 MyPlayer, playing quarterback in Madden 17, our review of MLB The Show 17 and the classic Nintendo sports games we want to see on the Switch.