New 'Zelda' Link Amiibo and Cloud Amiibo: Which Nintendo amiibo are GameStop exclusives?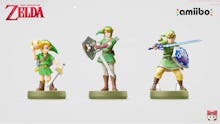 Those who watched Nintendo Direct Wednesday and saw the announcement for Zelda amiibo, Cloud amiibo for Smash Bros. and Splatoon amiibo, may have assumed the toys would be hard to get. The latest reports suggest not only are the new amiibo coming but they'll be exclusive to specific stores. Much like the exclusivity Nintendo used to indulge in (which no one asked for), you may once again have to venture to different stores to collect them all.
Zelda and Cloud amiibo pre-order: Two amiibo come exclusively to GameStop 
Nintendo has yet to announce anything official, but the latest rumblings point to store-exclusive amiibo. (We've reached out to Nintendo and await a response. We'll update this post when we hear back.)
On GameStop's official Twitter account, the company notes that Cloud amiibo in Final Fantasy VII: Advent Children (Player 2) garb and Link from Zelda: Twilight Princess will be available exclusively at GameStop. Pre-orders are up for the Zelda amiibo and Cloud amiibo right now.
The accuracy of GameStop's claim is bolstered by the fact the Nintendo of America Twitter account has retweeted the above tweet. 
Zelda and Cloud amiibo pre-order: Which other stores will offer up exclusive amiibo?
Rumors point to more of the new amiibo being exclusive. A tweet from Wario64 claims that Fire Emblem's Corrin Player 2 and Link from Zelda: Skyward Sword will come to Amazon, and a mystery retailer will offer up Bayonetta (Player 2) form and Link from Majora's Mask. 
The latter two amiibo could come to Best Buy, Target, Walmart or another vendor of Nintendo things. If and when Nintendo officially confirms, we'll know for sure. This also leaves out the Splatoon amiibo announced, but we'll receive more details about those later in the year. Stay tuned for more details.
Check out more Nintendo Switch news and coverage here
Looking for more Nintendo Switch news? Check out how blind gamers are using the Nintendo Switch. Nintendo's left Joy-Con issue turns out to be a hardware problem — find out how to solve it. Find out how to buy a console amidst the recent restock. Learn why the Switch cartridges taste so bad. Check out our comparison photos sizing up the Switch to the Wii U GamePad (part one and part two), or find out how to make use of ethernet without the dock and the best way to get alerts when new stock arrives.