A Detroit physician is being charged with performing female genital mutilation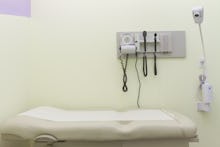 A Michigan doctor has been arrested and charged by complaint for allegedly performing female genital mutilation on girls, some as young as six, the Department of Justice said in a statement on Thursday.
Jumana Nagarwala, an emergency room doctor in Detroit, is suspected of performing FGM on young girls out of an office Livonia, Michigan, according to the statement. Some of the girls, who were between the ages of six and eight, were reportedly brought to Nagarwala from out of state.
According to the DOJ, Nagarwala is believed to be the first person to be charged for FGM under federal law. But she's not the first in the United States to face charges for FGM. In 2006, a man was sentenced to 10 years in prison by a Georgia court after he performed FGM on his young daughter.
Human rights groups have long campaigned against FGM, which is a cultural tradition practiced in communities in several regions of Africa and some parts of the Middle East and Asia, according to the World Health Organization, and is not linked to any religious texts. 
The practice involves removing some or all of the female external genital, including the clitoris. It has no health benefits, and can cause both short-term and long-term health problems including painful urination, pain during intercourse and increased risk during childbirth.
According to the WHO, more than 200 million people worldwide have undergone FGM. 
"According to the complaint, despite her oath to care for her patients, Dr. Nagarwala is alleged to have performed horrifying acts of brutality on the most vulnerable victims," acting assistant attorney general Kenneth Blanco, of the DOJ's Criminal Division, said in Thursday's statement.
"The Department of Justice is committed to stopping female genital mutilation in this country, and will use the full power of the law to ensure that no girls suffer such physical and emotional abuse."