10 boldly stylish jackets for transitional spring weather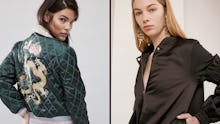 We're hoping spring will be warm, but if not, having a solid outwear option is clutch. With new weather, comes new spring fashion for days that go from chilly to blazing hot, and everything in between.
Editor's note: Prices and product availability are subject to change.
ASOS premium bomber jacket in floral jacquard: $98
Slightly oversized and fully lined, this bomber is made from a woven-in floral jacquard. Its smooth bonded exterior is brought together by ribbed trims.
Finders Keepers Cecil bomber: $200
For a cushy feel, this tan bomber from Finders Keepers has a padded interior. Its waffle fabric and ribbed cuffs give it chic, Star Wars feel.
Rebecca Minkoff Bali jacket: $349
This suede jacket with grommet detailing instantly gives an edgy vibe to any look. While it's on the pricey side, the seasonal jacket has timeless appeal.
Boden Sienna textured coat: $203
For work or business casual events, this cotton-polyamide coat is a lovely addition to the closet. Its buttons are smartly concealed in the lining.
C/MEO Collective double take bomber: $220
This lined, medium-weight bomber adds interest with its frilled sleeves. For those of you who need a pocket to get through the day, there's two subtle ones in the inseam.
ASOS premium quilted bomber jacket with dragon embroidery: $98
In addition to this bomber being incredibly fly, it can also be cleaned by hand — no trekking to the dry cleaner necessary. The bomber is 100% polyester and reversible to switch up for fun.
Timberland women's pine mountain waterproof trench coat: $99.99
For those warm but rainy days, this hip-length coat from Timberland is a great option. Waterproof, the tan topper repels rain so you're not feeling all damp and uncomfortable when it's pouring outside.
ILY Couture Embroidered Leather Jacket: $168
It's one thing to have a leather jacket, it's another to have one with serious personality. This piece from ILY Couture has multiple zippers, floral embroidery and stud details. 
Schott Nylon MA-1 Flight Souvenir Jacket: $147
There's a lot of personalization going on with this bomber, which is inspired by Air Force jackets. The orange lining against the right navy exterior pops — never mind the fun patches. With a crop top and leggings your look is set.
Rothco camo field jacket: $59
We know camouflage jackets were so four seasons ago, but there's something classic about the style. We love this thin, cotton option with four pockets from Urban Outfitters.
Canada Goose faber bomber: $395
A part of their fresh spring collection, this insulated jacket from Canada Goose is smart for transitional weather. Designed as a classic bomber with ribbed cuffs, it is wind and water resistant.