Plus-size transgender model Shay Neary lands her first UK fashion campaign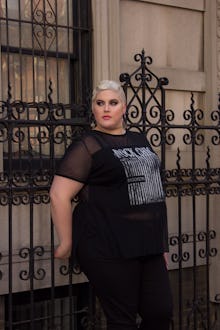 Shay Neary, who broke onto the scene in December when she became the first out plus-size transgender model to ever land a fashion campaign, has made her United Kingdom debut. 
For her first-ever U.K. campaign, Neary is working exclusively with retailer Yours Clothing, which specializes in modern, funky plus-size clothing up to a size 36. 
"Unlike other brands, we don't have a single customer type or customer age range," Yours Clothing's communications executive, Rosie Middleton, said in an email. "We have a size. Having a size as a market means that we have so many variants of customer profiles across a multitude of demographics. With this in mind, we try to reach out and connect with as many of these demographics as possible and in turn felt that there wasn't enough advice available to our transgender customers that were reaching out to us for advice."
And so they found Neary, who, at 28, is busting her way in the fashion world.
"In January, we started collaborating on a project for a simple guide for transgender customers," Neary said. "They have a large clientele of trans individuals, and happen to get a lot of questions for advice on how to dress. Of course I wanted to be a part of this. Any form of guidance is always helpful when you're starting your transition. I picked out clothes I thought represented my own style, and they sent me them." 
Indeed, on the company's website, Neary is already making an impact, offering style advice for women like herself, who happen to be trans, and her own style tips and tricks, like finding comfortable fabrics and why you shouldn't be afraid to play with androgyny. 
"There are days where I don't wear makeup and wear relaxed clothing," Neary writes. "I don't look like my normal fem-bot self. THAT'S OK! We are constantly changing, so you aren't meant to always look the same. Get comfortable with the not so pretty and the confidence will start to blossom. You've got to love yourself beyond the facade of beauty." 
According to Neary, this collaboration is just the beginning of trans women publicly helping and guiding women like them. "I'm very proud of it," Neary said. "It's simple, and its a beginning to addressing trans individuals transitioning. It gives us a voice, even if in small margins."
With this campaign in the U.K., Neary sees it as a sign that she's doing something right, and that it's not just companies in the U.S. that are looking for a more inclusive future. 
"If companies and customers outside of the U.S. are looking for beginnings, they are getting it," Neary said. "We are going through so much politically in the U.S. right now, as well as the U.K. It's important to give heed to diversity. That's what creates change. Unless we are truly portrayed as ourselves, society remains ignorant to our truths. I'm proud to be loved in the U.K., and would adore to do more work with U.K. brands."
Ultimately, Neary said that her goal within the next year is to become a household name, but still hold onto her own identity, on her own terms. She doesn't want to change herself, or how she views herself, for anyone. 
"I feel there's a lot of pushback, gender is a very touchy topic for people," Neary said. "Positive change always has created fear in our society. I would love to start fixing that, doing more speaking gigs at colleges and businesses. I love modeling, but I sometimes feel my voice is bigger than just my imagery. Maybe acting, who knows. I'm open to the endless possibilities this world can offer. As long as I get to be me, Shay. That's all ever I wanted in my life."