What's Kendrick Lamar saying in reverse on "Fear" and "Duckworth"? Listen to the original.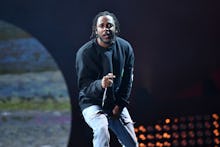 Kendrick Lamar's new album, Damn., is here. The Compton emcee dropped his fourth studio album today, and fans are already analyzing its standout details. Some are pointing out that lyrics from two songs, "Fear" and "Duckworth,"  are rapped in reverse.
On the 12th track, "Fear," the introduction of the song is played backward. Here is what Lamar really said, according to Genius.  
Every stone thrown at you restin' at my feet
On his track "Duckworth," Lamar also uses the same technique. One fan tweeted a video of the lyrics in reverse and played it backward:
Some of the lyrics appear to be a reversal of lyrics Kendrick rapped earlier in the song:
"Top Dawg could be servin' life, while I grew up without a father and die in a gunfight," he rapped. 
It appears Lamar is rapping about a hypothetical situation in which his life and the life of his label CEO Anthony "Top Dawg" Tiffith, could have turned out differently. According to Genius, the lyrics of the song tell a story about Lamar's father, "Ducky," and Tiffith unknowingly crossing paths at a KFC before they became acquainted with each other years later. On the track, Lamar described a situation in which Anthony, before his days as a businessman, could have killed his dad, who worked at the KFC, according to Genius contributors. But fate would have it that Top Dawg didn't. Later, the two men meet again inside a studio because of Lamar's success as an artist.
It is uncertain why Lamar chose to play with the listener's ears during these portions of the album, but the choice to reverse lyrics definitely had fans engaging in some detective work this morning. Here is what some of them had to say:
Mic has ongoing Kendrick Lamar coverage. Please follow our Kendrick Lamar hub here.