Corrin Player 2 Amiibo Preorder: Corrin and 'Zelda' Link amiibo may be Amazon exclusives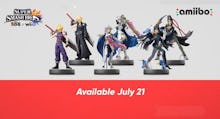 You may be excited to pre-order that Corrin player two amiibo and Legend of Zelda: Skyward Sword Link amiibo, but there's a good chance both will be exclusive to certain stores. The recent Nintendo Direct announcement for April 2017 brought us info on multiple incoming amiibo. As you've probably read, three new Zelda figurines, three for Super Smash Bros. and three for Splatoon will arrive this summer. The latest amiibo rumors, however, point to the Corrin player two amiibo and Skyward Sword Link amiibo coming to Amazon only.
Corrin player 2 amiibo pre-order: An Amazon exclusive?
The news comes to us from Wario64 on Twitter. Listing out the upcoming amiibo, the tweet claims to reveal which amiibo will be exclusive for each store. Corrin player two and Skyward Sword Link can be seen as Amazon's exclusives.
The list is bolstered by the fact that GameStop recently announced that they would receive the player two Cloud amiibo and Legend of Zelda: Twilight Princess Link amiibo as exclusives.
Like Cloud, the Corrin player two amiibo can be used in Smash Bros. to summon that toy's character into the game. Players are able to fight against, or alongside, the amiibo in battle. 
Skyward Sword Link, on the other hand, is similar to Twilight Princess Link. These amiibo will offer Zelda: Breath of the Wild players food, items and — if you're lucky — rare equipment. Those who've been hacking the game to get Fierce Deity Link can finally get the gear the proper way.
Corrin player two amiibo pre-order: When can you buy it?
The amiibo for Corrin's player two costume swap will release on July 21, while the Skyward Sword Link amiibo hits June 23. Thanks to pre-orders, however, you'll likely be able to buy the amiibo before those dates. Amazon has yet to post order pages for Nintendo's figurines but could do so soon. In GameStop's case, the retailer offered up the June and July amiibo as early as mid-April. Amiibo buyers will have to cross their fingers and hope Amazon does something similar.
More Nintendo Switch news and coverage
Looking for more Nintendo Switch news? Check out how blind gamers are using the Nintendo Switch. Nintendo's left Joy-Con issue turns out to be a hardware problem — find out how to solve it. Find out how to buy a console amidst the recent restock. Learn why the Switch cartridges taste so bad. Check out our comparison photos sizing up the Switch to the Wii U GamePad (part one and part two), or find out how to make use of ethernet without the dock and the best way to get alerts when new stock arrives.