Members of Congress are returning home to angry constituents and heated town halls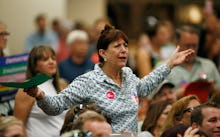 Members of Congress are home for two weeks for the Passover and Easter holidays. 
But instead of a leisurely spring break, they're getting an earful from angry constituents, who are pummeling them with questions at town halls about everything from President Donald Trump's tax returns to the Republican health care plan.
Here's a list of the things constituents confronted their representatives about at town halls during the first week of congressional recess:
The Republican health care plan 
Health care was what drove the majority of the Tea Party rage at town halls back in 2009. And health care is what's driving the rage at town halls in 2017. Voters of all stripes are furious at Republicans, both for trying to repeal the Affordable Care Act, and for the plan they unsuccessfully attempted to replace it with.
Rep. Mike Coffman (R-Colo.) got an earful from a Republican constituent who was aghast that Coffman would support the American Health Care Act, the House GOP health care plan that crashed and burned late last month.
"I'm sorry to say I was shocked when you declared your intention to vote for the American Health Care Act," Steven Haas, who identified himself as a registered Republican, told Coffman at a town hall Wednesday night. "That is not the way we do things here in Colorado."
Sen. Jeff Flake (R-Ariz.) was also shouted down over the issue, with constituents chanting "health care for all" at him as they pressed him to back a single-payer system.
"I will continue to support, as much as I can, our free-market system of health care," Flake told the crowd, who booed his response, according to the Arizona Republic.
Supreme Court Justice Neil Gorsuch
Flake lamented Gorsuch's confirmation process at his Thursday night town hall, calling Gorsuch the "first Supreme Court justice ever to be filibustered."
Constituents at his town hall, however, were not buying Flake's complaints, booing his comments and raising the issue of Merrick Garland, Barack Obama's SCOTUS nominee whom Republicans refused to give a hearing, let alone a vote.
"If Neil Gorsuch was the first Supreme Court justice ever to be filibustered, what happened to Merrick Garland's vote?" one constituent asked.
"I think Merrick Garland was a great man and a good judge, but what happened in the Senate last year, you may not have liked it, but it was not without precedent," Flake responded, eliciting boos from the audience.
White House press secretary Sean Spicer
Spicer's comments about Adolf Hitler also dogged members of Congress at town halls in their districts. When one audience member at Coffman's town hall asked about Spicer's Hitler remarks, Coffman called for Spicer's removal.
 "He needs to go," Coffman said.
Trump's tax returns
When Rep. Greg Walden (R-Ore.) said Trump has the right to keep his tax returns private, the room at his Thursday night town hall erupted.
"Every one of us has a protection of our tax returns," Walden said, leading to chants of "Shame! Shame!" according to a local television station. 
Planned Parenthood funding
On Thursday, Trump signed a bill that allows states to defund health care clinics that provide abortion services, such as Planned Parenthood. And Republican members of congress who voted in favor of the law got hammered by angry town hall attendees over that vote.
"I'm pro-life," Flake said to a town hall attendee who said she's called and visited Flake's office to demand he keep Planned Parenthood funding.
"No matter how you feel about the abortion issue, taxpayer funding shouldn't be used to provide abortion services," Flake added, to loud boos and chants that at times drowned out his response.
Congressional pay
Rep. Markwayne Mullin (R-Okla.) incorrectly explained to a voter that the idea of taxpayers footing the bill for his $174,000 congressional salary is "bull crap." 
"I pay for myself," Mullin said. "I paid enough taxes before I ever got there and continue to through my company to pay my own salary. This is a service no one here pays me to do. I do it as an honor and a service."
Taxpayer money does, in fact, fund Mullin's salary.