North Korea Threat: Here's why China says war with the US could break out "at any moment"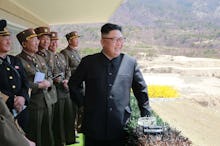 China urged the United States and North Korea on Friday to step back from the brink, warning that war over Pyongyang's nuclear testing could be imminent if the countries don't de-escalate tensions.
"We call on all parties to refrain from provoking and threatening each other, whether in words or actions, and not let the situation get to an irreversible and unmanageable stage," Chinese Foreign Minister Wang Yi told reporters in Beijing.
The dire warning comes amid fears that North Korea is readying another nuclear test, possibly as soon as this weekend. Senior U.S. officials have said the United States is prepared to strike North Korea if they believe the isolated country will carry out the test, and have two destroyers capable of launching a missile attack positioned in the region.
President Donald Trump has vowed to "properly deal" with North Korea if China does not, and his administration has warned that its "strategic patience" with the country has run out.
The U.S. has threatened force before, but the likelihood of escalation has kept it from following through. 
But Trump is an unpredictable player, Sue Mi Terry, a former CIA analyst who specializes in North Korea, told the Los Angeles Times.
"North Korea is doing what it always does," Terry said. "There is a lot of brinksmanship going on, but people can miscalculate. And things could go very, very wrong.''
As Trump promises North Korea will be "taken care of," South Korea — an ally of the U.S. — warned that a "provocation" would lead to a "powerful punitive measure."
"If North Korea conducts a strategic provocation such as a nuclear test or an intercontinental ballistic missile launch, there is certain to be powerful punitive measure that will be difficult for the North Korean regime to endure," South Korea's Foreign Ministry said in a statement.
But in an interview with the Associated Press on Friday, North Korean Vice Foreign Minister Han Song Ryol said that the country is "fully prepared to handle" whatever comes from the United States.
"We will go to war if they choose," he said, expanding upon a separate statement from the foreign ministry warning that a "thermonuclear war may break out at any moment on the peninsula."
China, North Korea's strongest ally that opposes its nuclear escalation, warned Friday against going "tit for tat, with swords drawn and bows bent."
"No matter who it is, if they let war break out on the peninsula, they must shoulder that historical culpability and pay the corresponding price for this," Wang, the minister, said.