'Pokémon Go' Eggstravaganza 2km eggs: List of rare Pokémon hatching easier from eggs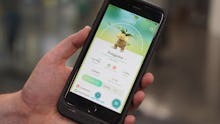 Niantic announced and released an egg-themed event for Pokémon Go yesterday: the Eggstravaganza. As part of it, you'll earn bonus candy for hatching eggs, all experience gain is doubled and Lucky Eggs are half price in the store (which you can stack with the passive buff to get a whopping four times XP gain). The real treasure is the new Pokémon now hatching from 2 km eggs for the entire week-long event.
If you're wondering what new Pokémon you might find in these eggs, read on for our list about what Pokémon are hatching where.
Pokémon Go Eggstravaganza: What new Pokémon are hatching from 2 km eggs?
According to a post on the Silph Road, the following are the new Pokémon that players will be able to hatch from 2 km eggs during the Eggstravaganza:
AerodactylDunsparceEeveeElekidGirafarigGrimerGrowlitheKoffingLaprasLarvitarMagbyMiltankOnixPhanphyRhyhornScytherShellderShuckleSkarmorySmoochumSneaselStantlerSudowoodoTangelaTyrogueWobbuffetWooper
Some of these, like Eevee and Wooper, aren't super exciting. But the prospect of being able to hatch the ultra-rare Larvitar from a 2 km egg is pretty nice. And being able to nab a Pokémon like Sudowoodo, Shuckle or Stantler is mighty enticing, too.
Something to keep in mind: The eggs are time-stamped from when you receive them, not when you hatch them. This means that any 2 km egg you've received prior to Thursday at 4 p.m. Eastern will have the old 2 km egg list, not the new one, according to Heavy.
But it's still exciting to have the opportunity to hatch rarer Pokémon out of 2 km eggs, so clear out your backpack and make room for the good eggs on the way.
Pokémon Go Eggstravaganza: Generation 2 starters also hatching from 5 km eggs
As if a massive increase to the 2 km egg group for the week wasn't enough, the Silph Road also reported that generation 2 Johto starters — Chikorita, Cyndaquil and Totodile — are hatching from 5 km eggs. It's uncertain whether this is also a part of the Eggstravaganza or just an update to the game's code at this point. Regardless, in the last egg chart update the gen 2 starters weren't hatching at all, so it's good news either way.
The same rules apply to these eggs as the time-stamped 2 km ones. If you're hatching an egg you received before the start of the event, you won't be able to get the gen 2 starters.
The Eggstravaganza goes from Thursday, April 13, until Thursday, April 20, 2017, at 4 p.m. Eastern. If you want a chance at these special new Pokémon hatch rates, make sure you nab some time-stamped eggs during the event before it ends.
More Pokémon Go tips, tricks and guides
If you're booting up the game for the first time in a while to get ready for Gen 2, be sure to check out Mic's guides on how to get stardust, how to determine how long it will take you to reach level 40, the kind of Pokémon you get from 10km eggs, how to create new PokéStops, how to maximize your chances of catching Pokémon and how PokéStops distribute Pokémon eggs. Also check out how to catch Gen 2 baby Pokémon, our analysis of post-balance update Chansey and Rhydon and everything you need to know about finding the long-awaited Pokémon Ditto.