Good Friday Celebration Photos: 18 images show the kickoff to the Christian holy day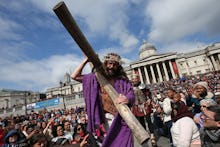 Just two days ahead of Easter Sunday, Christians around the world are celebrating Good Friday, the holy day marking the death and crucifixion of Jesus Christ. 
Good Friday, which takes place this year on April 14, is the second day of the Easter Triduum, the holy period that begins with Holy Thursday and ends with Easter Sunday.
Catholics traditionally fast on Good Friday, and the solemn occasion traditionally isn't celebrated with a mass, though there may be a liturgy performed. Some areas around the world, such as the Philippines, also mark the occasion with a reenactment of Christ's crucifixion. 
Here are 18 photos showing how Christians around the world are marking this holy day.
India
France
Philippines
Jerusalem
United Kingdom
Greece
Kenya
Australia
Germany
Egypt
Pakistan