People compared the United passenger to Rosa Parks. Parks' niece shut that nonsense down.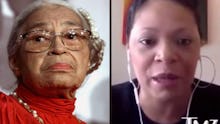 On Thursday, the attorney for David Dao — who was brutally dragged off a supposedly overbooked United flight on Monday — referenced an email he received calling Dao the "Asian Rosa Parks." Shortly after, USA Today issued and deleted a tweet mischaracterizing the comparison to the civil rights icon. Once the comparison kept creeping up, Parks' niece responded with an unequivocal hell no. 
In an interview with TMZ, Urana McCauley, Parks' niece, said "you cannot compare the two." 
"I think that what Dr. Dao is going to do is probably change the policy of United Airlines, but actually what my aunt did was change history," McCauley said.  
She added, "A lot of people like to compare themselves to her or like others, but there is no comparison." 
Several people on Twitter were also outraged when USA Today issued the tweet, which decontextualized Dao's attorney's remarks comparing Dao to Parks. These people pointed out some egregious holes in the comparison, including that Parks was a longtime activist who chose not to move from the bus as a deliberate act of protest. People also took umbrage at the comparison of a commercial flight and a segregated city bus. 
McCauley said that Parks received death threats all the way up until 2000, almost fifty years after her historic bus protest. 
McCauley ended by saying, "You can't say that what happened to him is the same thing that happened to people like my aunt, who helped change history forever."