Devin McCourty defends Trump protest: How would I explain that photo op to my daughter?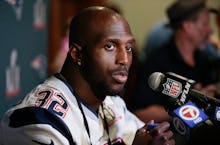 New England Patriots' free safety Devin McCourty joined several other athletes and sports industry professionals at Boston University's Play It Forward conference on Friday, where he elaborated on his decision to protest his team's visit to President Donald Trump's White House.
"I'm a new dad," McCourty said, "and you start to think about those things. You think about, my daughter will be growing up in this country. ... How will I explain to her, 'Why is there a photo op of me shaking someone's hand if I didn't agree, and taught her all the things opposite of that?'"
ESPN's The Undefeated caught the exchange on video:
In February, McCourty became the second Patriots players to announce they would not visit the White House to celebrate the team's Super Bowl victory. The players cited the president's wide-ranging prejudices as their reason for protesting.
"I'm not going to the White House," McCourty told Time in a text message Feb. 5. "Basic reason for me is I don't feel accepted in the White House. With the president having so many strong opinions and prejudices I believe certain people might feel accepted there while others won't."
Championship-winning sports teams traditionally visit the White House to be congratulated by the president. Trump has not yet invited the Patriots, but he maintains close relationships with several members of the organization. Quarterback Tom Brady and head coach Bill Belichick are both his friends. So is team owner Robert Kraft, who has visited Trump twice at Mar-a-Lago since the Patriots won the Super Bowl.
McCourty explained Friday that he was echoing his teammate Chris Long — the only white player to join the protest — in considering the impact a photo op with Trump might have on his kids.
"I thought [Chris Long] said it the best," McCourty said. "He has a young son, and he said whatever happens from this administration, he doesn't want his son to grow up and say, 'Dad, you knew that was the wrong thing to do at the time. Why'd you do it? You knew what was right.'"