Corinne from 'The Bachelor' on her fashion line, her TV persona and her greatest fears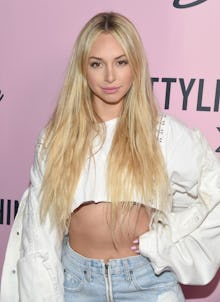 Corinne Olympios, the 25-year-old breakout star (or villain, depending on who you ask) of the most recent season of The Bachelor, is leveraging her reality stardom into a fashion line — so you can now purchase the "platinum vagine" T-shirt you've always wanted. 
Olympios announced her Team Corn line and online shop in an Instagram post in early April. The online store features T-shirts and tank-tops emblazoned with Corinne-isms from her time on The Bachelor, like "I feel like napping," and "I need a Raquel" — a reference to her oft-mentioned nanny. 
"I always loved being creative and I always wanted to really have my own clothing line," Olympios said in a phone call. "And when I saw how people took to my saying or quotes from The Bachelor I was like 'You know what, I could just jump right in and go make shirts.'"
One of her slogans, now available for purchase online in the form of shirts and hats, is "Make America Corinne Again." When asked whether this is meant to be taken as either satire or endorsement of President Donald Trump's campaign slogan, Olympios maintains it's not political. "It was just something funny I said," she said. "I didn't make Trump hats, I made Corinne hats ... It's kind of just like a thing turned into another thing."
Olympios said she chose her "favorite" quotes from her time on The Bachelor. But is she worried that she'll run out of Corinne-isms to put on tee-shirts now that her time on the show is over? And does she have plans to stay in the limelight?
"I'm not really sure," she said. "I'm gonna see what is coming next, like Paradise or just different kinds of things. I'm gonna keep making Team Corn stuff but I'm really gonna transition it into my own line."
So is that confirmation that Olympios will appear on the next season of the juicy Bachelor spinoff show Bachelor in Paradise? It's still "a maybe," Olympios said, but she certainly doesn't seem ready to say goodbye to reality TV just yet.
Olympios made waves on The Bachelor, stirring up drama not by picking fights with the other women contestants, but by seeming to violate the implied social contracts of the show, which frustrated her fellow contestants — and the audience — to no end.
She split off from a group event to straddle Bachelor lead Nick Viall in a bouncy playhouse, she talked at length, not about her wholesome family values, but about her pampered home life, including her "nanny," and she once napped through an all-important Rose Ceremony, a cardinal sin in the world of The Bachelor.
Her behavior led some viewers, including former Bachelorette Ali Fedotowsky, to question whether or not she was totally for real. But Olympios maintains that she was simply herself on the show.
"You just always want to be yourself, that's really it," she said.
When asked what Bachelor viewers might not have learned about her from the show, Olympios had a ready answer. "I'm super afraid to take a workout class alone," she said. "I don't even know why I just thought of that ... I'm like, terrified. I will not take a workout class alone. Ever."
Mic has ongoing Bachelor coverage. Check out our main Bachelor hub here.