When does Xbox Scorpio Come Out? Microsoft confirms E3 2017 reveal.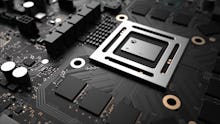 Last week's Xbox Project Scorpio reveal over at Digital Foundry piqued our collective curiosity. What is its real name? What does it look like? When does it come out and how much will it cost? And, finally, when will we learn all of that information?
It seems we now have an answer, courtesy of a blog post by Xbox head Phil Spencer.
Project Scorpio reveal set for E3 2017
E3, the industry's largest North American conference, is when the heavyweights of the video game industry unveil all of their biggest upcoming products. It might have made some sense to have a pre-E3 event to talk about the hardware so they could focus on games at E3, but Digital Foundry got the hardcore hardware analysis out of the way already. It's more powerful than the PS4 Pro but it isn't an all-new console. 
Microsoft's E3 press conference is set for Sunday, June 11 at 5 p.m. Eastern. In addition to more information about Project Scorpio, Microsoft is sure to talk more about its slate of upcoming exclusive games, such as Crackdown 3 and State of Decay 2.
More gaming news and updates
Check out the latest from Mic, including our deep dive into how female Overwatch players are dealing with online harassment, an article about a fan movement advocating for more same-sex romance options in Mass Effect, a cool making-of video for Legend of Zelda: Breath of the Wild and an article about what a Bechdel test for gaming might look like.