Is Kendrick Lamar releasing a second album on Easter? 'Damn.' release sparks rumors.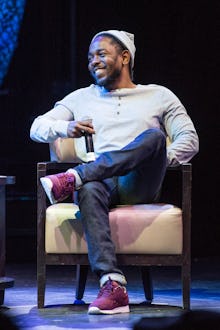 Was Kendrick Lamar planning a double album all along? The Compton emcee rolled out his fourth studio album, Damn., on Friday, but some fans believe Lamar is secretly plotting to release a second part to the project on Easter Sunday.
There is currently a list of rumors going around from an unidentified source explaining clues about this double-album theory. Much of it is based on an idea that Lamar is likening himself to Jesus Christ, who was crucified on Good Friday and resurrected on Easter Sunday, in Christian theology. This theory suggests the full title of this double album will be Damnation.  Read below for the explanation:
As mentioned above, Sounwave's tweet may have set off this double-album theory. The in-house producer for Top Dawg Entertainment posted the ambiguous messages late Thursday night.
Another Twitter user, Larry Beyince, is speculating another album title, and also believes Lamar may be going deeper with his concept than what he's letting on. 
He also believes the tracks on the forthcoming album will compliment tracks on Damn.
If it is true that Damn. is the second part of a two-part project, then this means Lamar is releasing his album in reverse.
Speaking of this theory, Lamar featured backward lyrics on two songs on his album, "Fear" and "Duckworth," leaving music fans to decode the lyrics and the meanings of these songs Friday morning. Was this technique in his music done for style and to further engage listeners, or was this a sign the rapper has something deeper up his sleeve?
Less than 24 hours after Lamar's new album release we are left with more questions than answers. Will there be a part two on Sunday, the same day Lamar is performing at Coachella? And if there is, will it be called God or Nation? Lamar is not above surprise releases, as he did this with his compilation album untitled unmastered. last year. These theories are mind-numbing, but Sunday will tell all. 
Mic has ongoing coverage of Kendrick Lamar. Please follow our main Kendrick Lamar hub here.