The most magnificent Easter dessert recipes on the internet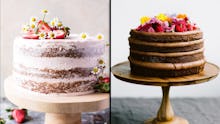 Easter is here and you deserve all the sugar you can handle. Cakes, pies, cookies, candies and more should all be on your Easter Sunday menu, and we have a few amazing recipes to make your festive dessert spread better than ever.
Invite the Easter Bunny for dessert because these sweets are legit. 
Strawberry coconut carrot cake with mascarpone buttercream
Not only is it simpler than you think to make this special carrot cake gorgeous, it's also a delicious and festive cake to eat on Easter. Get the recipe here. 
Springtime Oreos
Cookies out of a package are fine and all, but for a holiday consider making some Oreo-like sweets yourself. Get the recipe here. 
4-ingredient ice cream pie with peanut butter Krispie crust
Whip up this pie just before Easter brunch for a quick and satisfying treat. Get the recipe here. 
White chocolate peanut butter eggs
Cadbury who? These homemade and completely vegan peanut butter filled eggs will be your new go-to Easter treat. Get the recipe here.
Pink bunny pancakes
Impress your brunch guests with these sweet pink pancakes complete with a whipped cream tail. Who wouldn't want to roll out of bed to see those delightful bunny banana paws? Get the recipe here. 
Lemon cardamom meringue pie
Never made your own pie crust? Why change now? This meringue pie looks complicated, but its store-bought crust and minimal ingredients list make it a simple treat to whip together effortlessly. Bonus: It's beautiful. Get the recipe here.
Lemon muffins with chia seeds and honey glaze
A sweet that you can eat first thing in the morning and feel good about, these healthy-ish muffins are fresh, zingy and perfect for Easter and beyond. Get the recipe here. 
Carrot loaf
If you're craving a simpler carrot cake to appease the Easter Bunny, this easy to make loaf should be on your recipe list. Get the recipe here. 
Salted caramel pecan monkey bread
Crunchy, gooey, sticky, cakey... this bundt bread has it all. Get the recipe here. 
Easter basket cookie cups
Why give a woven basket when the entire Easter basket can be made out of sugary delights? Get the recipe here. 
Nutella cake
Prefer chocolate to carrots? This layered Nutella cake is rich, chocolatey and ready for spring with a touch of floral decor. Get the recipe here. 
Strawberry frosted lemon cake
So fruity and fresh, you'll know it's spring with your first bite of this pretty cake. Get the recipe here. 
Toasted coconut bunny tails
All sugar, no rabbit needed to make these festive pastel cookies. Get the recipe here. 
Olive oil cupcakes with rainbow mascarpone frosting
Skip the egg dying, or use the leftover food coloring in your frosting for these super moist and sophisticated cupcakes. Get the recipe here. 
Oreo cookie breaded deep fried chocolate Oreo eggs
Looking for a project on Easter Sunday? Breading these chocolate eggs in Oreo crumbs and deep frying them is a good start. Get the recipe here.