Kendrick Lamar's 'Damn.' Release: A complete list of all the shots at Fox News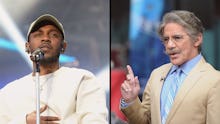 Fox News picked the wrong rapper to come for in 2015 when they tried to make Kendrick Lamar an example of all that's wrong with hip-hop culture. 
"This is why I say that hip-hop has done more damage to young African-Americans than racism in recent years," Geraldo Rivera actually said on national television, responding to the lyrics of Lamar's BET Awards performance of "Alright," which offered a striking visual condemnation of police brutality. "This is exactly the wrong message."
Two years later, Lamar has engineered the most epic clapback imaginable — a series of admonitions, soundbites and disses against the conservative news network on his album Damn. 
It starts with the very first track, "Blood." Lamar ends with a clip from the above quoted Fox segment: "Lamar stated his views on police brutality with that line in the song, quote: 'And we hate the popo, wanna kill us in the street fo' sho'...'"
"Oh please, ugh, I don't like it," Fox's Kimberly Guilfoyle responds. 
It sets the stage and war begins.
The album includes a sample of Rivera's "hip-hop has done more damage to African-Americans" quote a song later, in "DNA." And Lamar calls out Rivera by name, on "Yah.":
Fox News wanna use my name for percentage
Kendrick restresses the resilience and self-worth that "Alright," and his entire catalog, sought to imbue in his audience. In many ways, it's a remix of Lamar's response to the segment in 2015. "How can you take a song that's about hope and turn it into hatred?" Lamar asked on TMZ Live. "The overall message is 'we're gonna be alright.' It's not the message of 'I wanna kill people.'"
Lamar addresses Fox again on "XXX." toward the album's end, which offers a deeper explanation for the network's treachery besides ratings:
It's nasty when you set us up then roll the dice then bet us up
The leap to brand Kendrick's lyrics as violent and unproductive rather than engaging with their more hopeful aspects feeds into a much larger racist narrative about black Americans. It's a prejudice that assumes all black people are guilty until proven innocent, gang members until proven otherwise. This fight is bigger than Fox, its affiliated conservative networks or those who shout Blue Lives Matter to drown out the cries for racial justice. 
Kendrick Lamar's Damn. is a wake-up call.
"We all woke up, tryna tune to the daily news/ Lookin' for confirmation, hopin' election wasn't true," Lamar raps in another key verse on "Lust." describing the reactions of many Americans to Trump's win in November — a win Fox hailed as a "historic election upset." "All of us worried, all of us buried and the feeling's deep/ None of us married to his proposal, make us feel cheap."
We may have marched and raged for weeks afterwards, but after the insults fade into memory, Lamar sees us "Revertin' back to our daily programs/ Stuck in our ways." 
Fox News helps return the world to silence. We'll see what Rivera has to say about this album when he hears it in full. We haven't had a good rapper-news network beef in too long.
More Kendrick Lamar news and updates
Mic has ongoing coverage of Kendrick Lamar's rise. Check out our review of his previous To Pimp a Butterfly and a breakdown of the structuralist and culturalist theories of racism that clash at the album's heart. Read up on the story of his rise from Compton local favorite to king of the west coast, alongside a list of his best guest verses, a breakdown of the lyrics to "The Heart, Pt. 4" and "Humble" and an investigation of how "Alright" became a go-to protest anthem.