Sen. Cory Booker condemns DHS for revoking global entry cards for Muslim travelers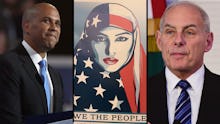 Sens. Cory Booker (D-N.J.) and Tom Carper (D-Del.) are leading a coalition of Senate Democrats in calling on Homeland Security Secretary John Kelly to disclose information and motives behind the department's revoking global entry status for Muslim travelers.
The joint letter is based on reports that American citizens and green card holders had their global entry status revoked without proper explanation a few weeks after President Donald Trump signed an executive order banning refugees and visa holders from six Muslim-majority countries. The Global Entry Program is operated by U.S. Customs Borders and Protection, under the jurisdiction of DHS, which allows expedited entry through customs checkpoints at U.S. airports to securely vetted travelers. 
Booker said in an email to Mic that the impetus behind the letter is to figure out if the the Trump administration is enacting in blatant religious and/or racial discrimination, but that can't happen unless DHS provides clear answers.
"It's deeply troubling if the Department of Homeland Security is discriminating against people, including American citizens, on the basis of religion," Booker said. "There may very well be an explanation for these disturbing reports, but we need clear answers from the department. Otherwise, I will remain concerned about potential violations of people's constitutional rights."
In a letter obtained by Mic, Senate Democrats are calling on the department to release the number of individuals who had their global entry status revoked. The letter also asks the DHS to disclose the reasonings behind each individual's revocation. 
"Given the Trump administration has taken policy positions that are hostile towards immigrants and refugees, we are concerned by press reports alleging discrimination by DHS against members of the Arab and Muslim community," the senators wrote. The letter noted later on, "Reports indicate that more than two dozen people with Arab or Muslim-sounding names have come forward claiming their enrollment in Global Entry was revoked. This is wrong and unacceptable."
The letter is signed by Booker and Carper, as well as Sens. Tammy Duckworth (D-Ill.), Bernie Sanders (D-Vt.),  Ed Markey (D-Mass.), Chris Coons (D-Del.), Cardin (D-Md.) and Patrick Leahy (D-Vt.).
"The Fifth Amendment encompasses a guarantee of equal protection that prevents the federal government from discriminating against people based on suspect classes, such as religion," the senators wrote. "If DHS has removed people from the Global Entry Program because they have Muslim-sounding names, it would appear that the agency has violated the Fifth Amendment."
Robert McCaw, director of governmental affairs for the Council of American Islamic Relations, said the Muslim civil rights group welcomes the move.
"We welcome [the query]," McCaw said over the phone. "These Senate offices responded to the civil rights concerns of their Muslim-American constituents. New Jersey has the fifth highest count of mosques in the United States. Sen. Booker is responding to the concerns of his constituents and that's what a good elected official does." 
For months, Booker has been advocating on behalf of Muslim constituents in New Jersey. In February, Booker — a member of the Senate Foreign Relations Committee — held a private briefing with New Jersey's local Muslim leaders and their congressional delegations where concerns over global entry revocations were voiced, McCaw said. 
Booker and Carper's letter to Kelly and the DHS is the duo's most recent pushback to the Trump administration's efforts to erode the rights of immigrants, people of color, and Muslims. On Feb. 3, Booker and Carper introduced the PROTECT Immigration ACT to prevent police departments from enforcing federal immigration laws as an effort to resist Trump's travel ban. Then on March 8, after Trump signed his revised travel ban, Booker and Carper introduced legislation to nullify a clause in the 1965 Immigration and Nationality Act that would give the sitting president power to ban immigrants based on national origin.
McCaw doesn't expect to see a valid explanation or comply with all requests listed in the letters signed by Senate Democrats, but believes it will bring necessary public awareness on questionable policies and practices within the Trump administration.
"Agency responses to inquiries are typically vague and are done so on purpose," McCaw said. "However, I think this letter could get a good response, because if anything, it puts [the Trump administration] on notice that Congress is watching and that will curbs bad policies and motives in federal agencies."
On Tuesday, the American Arab Anti-Discrimination Committee and immigration attorneys Greg Siskind and Andrew Free filed a FOIA lawsuit against DHS. The complaint demands DHS to release the names and numbers of individuals who had their global entry status revoked since Trump enacted the travel ban, as well as, any internal policy or memo that pertains to the revocations.