Who is Gary Cohn? One of Trump's most trusted advisers is a Wall Street Democrat.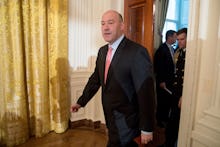 Gary Cohn — the director of the National Economic Council and former Goldman Sachs president — has emerged as one of President Donald Trump's most influential advisers as chief strategist Steve Bannon and chief of staff Reince Priebus continue to lose sway within the White House.
Along with advisers Jared Kushner and Ivanka Trump — the president's son-in-law and daughter — Cohn is seen as one of the driving forces behind Trump's major shifts this week on China, government subsidies on exports and the Federal Reserve, according to the Washington Post.
Cohn's ascension — and the apparent relegation of Bannon — may give hope to moderates opposed to the slash-and-burn agenda the Trump administration has pushed so far, and has been railed by right wingers who slur Cohn and Kushner as globalists.
Here's what you need to know about Cohn:
He ran Goldman Sachs
Cohn, who was born in blue-collar Ohio, rose up the ranks of Goldman Sachs to become president of the investment bank.
He was the third Goldman Sachs executive to be appointed by Trump, who has business ties to the company. 
Though he made $1.8 million at Goldman in 2016, Cohn also has tens of millions of dollars in assets, according to financial disclosures released by the White House recently. 
Cohn has resigned from his former positions, but is still in the process of divesting from his assets, according to the White House.
He has given money to Democrats
Cohn is considered a moderate and has donated money to former President Barack Obama and former presidential candidate Hillary Clinton, frustrating conservatives who see him as an "ideological liberal," as Rush Limbaugh recently put it. 
According to the Washington Post, Trump regards Cohn first as a "dealmaker."
"I'm not a Democrat, and I'm not a Republican," Cohn says in meetings with business executives, the Post reports. "I just want to get things done."
He's a driving force behind Trump's so-called "centrist push"
After a rocky start to his presidency, Trump reportedly has plans to rebound by making a centrist push. 
The motor of that plan appears to be an alliance between Cohn, Kushner and Ivanka Trump, who have eschewed the spotlight while attempting — behind the scenes — to shift away from Bannon's approach to a more "competence-and-results driven" one.
According to Gene Sperling, Cohn's predecessor at the NEC, the former Goldman president's less ideologically driven approach has put him in a powerful position.
"While others seemed engaged in ideological and 'House of Cards'-like staff warfare, he quietly and quickly focused on the first rule of governing," Sperling told the Post. "He hired some competent, professional staff at the NEC, and it has paid off for him."