'Call the Midwife' Video Exclusive: Breaking down the British drama's fictional realism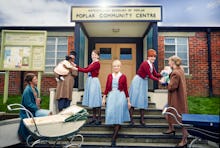 Now that the sixth season of British drama Call the Midwife is under way here in the United States, Mic has obtained an exclusive video featuring the series' creator, Heidi Thomas, and some of its cast members, in which they discuss the importance of the show's writing.
The first few seasons of CTM were based on the memoirs of the same name by Jennifer Worth. But following the departure of actress Jessica Raine (who played Worth), the series' story lines became works of fiction. However, according to Thomas, that hasn't had a detrimental effect on the show's impact:
"I think that when you're able to make a program which is essentially fictionalal, but sufficiently respectful of the facts," says Thomas in the clip, "for people to turn around and say, 'You have reflected my life back to me,' I think that's very special."
Series star Jenny Agutter, who plays Sister Julienne, compliments Thomas on her ability to tell a compelling fictional story while also maintaining the reality of the time and setting:  
You think, that when you start reading the story that you have an idea of where it's going to go, and I think Heidi has overseen or written a great deal of the scripts. And it's always another way of telling a story that she manages to find quite dramatic ideas that illustrate something that are entirely, in many ways, theatrical, but also entirely real and completely honest.
Watch the clip below, which also includes observations from cast members Judy Parfitt (Sister Monica Joan) and Charlotte Ritchie (Nurse Barbara Gilbert):
Call the Midwife airs Sundays at 8 p.m Eastern on PBS.
Mic has ongoing TV coverage. Please follow our main TV hub here.