'NBA Live 18' Leaked Screenshots: Release date might introduce the WNBA to the series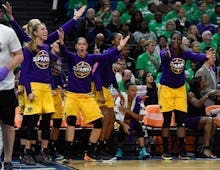 A leaked screenshot of NBA Live 18 features a WNBA logo. If this is what it appears to be, the EA Sports-produced title might be poised to break new ground.
NBA Live 18 Leaked Screenshots: Everything we know so far
The screenshot came from DIRK41NOWITZKI of OperationSports.com. The website's founder, Steve Noah, also tweeted the image calling attention to the logo on the left side of the screen.
It is an off-screen capture, so the clarity isn't the best, but you can make out the logo:
No hoops game has ever featured the WNBA, despite the fact that the league will celebrate its 21st birthday on April 24.
There have been mods of different types that have been presented as official WNBA games, but NBA Live 18 would be the first to legitimately include the ladies.
This is a practical move for many reasons, but mostly because EA Sports did something similar with FIFA 17 when it included 14 female national teams.
The Live franchise is in desperate need of a pick-me-up after a series of cancellations and delays have plagued the once dominant and legendary brand.
Setting new standards in diversity and inclusion is a good way to jumpstart the product.
More sports gaming news and updates
Are you a sports gamer? Check out more content from Mic, including tips for leveling up your NBA 2K17 MyPlayer, playing quarterback in Madden 17, our review of MLB The Show 17 and the classic Nintendo sports games we want to see on the Switch.