What time does the Boston Marathon start? Here's the 2017 schedule.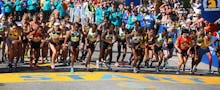 On Monday, runners from around the world will head to Massachusetts to compete in the Boston Marathon, one of the country's most iconic running traditions.
But when will the festivities kick off? Participants will begin making their way down the marathon route around 9 a.m. Eastern, but the specific start time will depend on the individual division that a runner is in.
Division start times
Here are the official start times (Eastern time) for each division, as listed by the Boston Athletic Association. All runners will depart from the marathon's official starting point in Hopkinton.
8:50 a.m.: Mobility impaired 
9:17 a.m.: Push rim wheelchair
9:22 a.m.: Handcycles
9:32 a.m.: Elite women
10:00 a.m.: Elite men and wave one
10:25 a.m.: Wave two
10:50 a.m.: Wave three
11:15 a.m.: Wave four
Broadcast start times
For those who can't make it to the marathon in person, the running event will be broadcast both on television and online, beginning around the same time as the first runners depart.
Boston CBS affiliate WBZ-TV will air the marathon locally beginning at 9 a.m. Eastern, with pre-race coverage kicking off at 7 a.m. The marathon will also be broadcast nationally on the NBC Sports Network beginning at 8:30 a.m. Eastern. On Sunday, the network will air a preview show centering on the marathon, which will start at 8:00 p.m. Eastern.
Those hoping to watch online can also catch NBC's broadcast at nbcsports.com. CBS Boston will also livestream the event beginning at 9 a.m. However, due to streaming rights, the "elite runners" portion of the CBS livestream, which will run from 9 a.m. to 12:15 p.m., will only be accessible to New England viewers.
In addition, the Boston Athletic Association will have their own livestream of the event, which will kick off at 9:15 a.m. Eastern.