This Democratic group is still talking about missing Obama and Twitter is not having it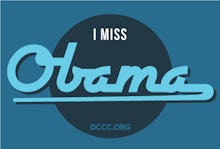 The Democratic Congressional Campaign Committee, the campaign fundraising arm of the party, wants donors to remember the good old days of Barack Obama and Joe Biden — but annoyed Twitter Democrats say they want wins, not goofy GIFs.
"JUST RELEASED: Live footage of Barack and Joe wallpapering Trump's office with our new sticker. Get yours," the DCCC, which is supposed to distribute cash to Democrats' House campaigns, trumpeted on its feed Thursday.
The invite to chip in $3 for an "I miss Obama" sticker came packaged with a GIF showing the former president and vice president rolling up to the White House to redecorate President Donald Trump's office, Democrat-style. The two share a grin and a high-five at the end.
Frustrated Democrats, however, weren't smiling.
On Tuesday, Republican Ron Estes beat Democrat James Thompson by seven points in a special election in Kansas Congressional District 4, which previously leaned GOP by a whopping 29 percentage points. 
Some reports interpreted the outcome as a possible harbinger of the Democrats having a shot at taking back seats in the 2018 midterms.
But liberals and Democrats immediately started fighting over the role of the national and state level Democratic parties in what they viewed as a lost opportunity. 
Some on the left put the blame squarely on the DCCC. "The DCCC barely lifted a finger to help James Thompson. He almost won anyway," read a headline in the Nation the day after the vote.
Plenty of worried and angry Twitter users took out their rage on the DCCC for the nostalgic sticker promo, saying they hadn't done their job and fought (or spent) hard enough to help Thompson — no matter how bleak his initial prospects might have seemed.
"Y'all couldn't help @JamesThompsonKS & his remarkable campaign in Kansas but y'all have the time for garbage like this," tweeted "Leftist Political Commentator" @RealTrevinShu. 
And the hits kept on coming.
And coming.
And coming.
Contacted for comment by Mic, DCCC spokesman Tyler Law initially said by phone that he didn't see what the big story was, partly because the committee uses GIFs on its Twitter feed all the time.
"How long do people think it takes to send a Tweet?" Law said afterward in an email statement.
Law, who said the DCCC is indeed doing its job of defending the party's goals, also included a request to "please include our last tweets, if people are truly concerned about that," providing links to several: 
As those tweets show, the focus has shifted toward Georgia's 6th Congressional District.
There, Democrat Jon Ossoff is waging a highly watched bid to capture the House seat vacated when Rep. Tom Price became Trump's secretary of Health and Human Services.
As the DCCC points out, Republicans, including Newt Gingrich, have held that office, representing the Atlanta suburbs, for 37 years.