'The Last Jedi' Trailer: 'Star Wars' Celebration promo teases dramatic Christmas release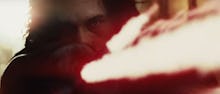 We have been waiting for this moment for months, and it is finally here — the first official teaser trailer for Star Wars: The Last Jedi, hitting theaters this Christmas. About an hour into The Last Jedi panel at the 2017 Star Wars Celebration, host Josh Gad asked director Rian Johnson whether he brought anything special for the fans. And boy did the fans react with enthusiasm. 
Initially, Johnson teased the fans with a simple — yet awesome — poster for the film, but moments later, the director revealed that he, of course, brought with him the first trailer for the most anticipated film of 2017. And what's more special, even the cast on the stage, including Daisy Ridley, John Boyega and Mark Hamill, had not yet seen the trailer. And so, they were eager to experience it for the first time with the fans. 
Much like the goosebumps many had when seeing the Millennium Falcon fly across the screen in the first The Force Awakens trailer, The Last Jedi teaser delivers something that has not been seen in decades: new Luke Skywalker dialogue! 
Check the awesome trailer out for yourself below:
Mic has ongoing coverage of Star Wars. Please follow our main Star Wars hub here.