Kendrick Lamar's "Loyalty" Lyrics: Every verse to the 'Damn.' track featuring Rihanna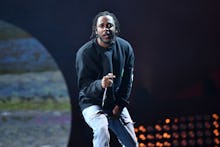 Kendrick Lamar teams up with Rihanna on his track "Loyalty" from his new album Damn. K-Dot and Bad Gal RiRi explore the theme of the song's title by asking the listener to think about where they are placing their allegiance in life. 
This is the first time Rihanna has been featured on a Kendrick Lamar album. After playing this song several times, it's hard not to chant "Loyalty, loyalty, loyalty," thanks to Lamar and Rihanna's catchy delivery. 
There are also backward lyrics in the song's introduction. The words actually read: "You higher/ Tonight/ Throw your hands up in the sky/ I just want to take you higher/ Tonight." Lamar borrows the vocals from the introduction of Bruno Mars' song "24K Magic," which is performed by musician Mr. Talkbox. 
Here is every verse to "Loyalty," via Genius.  
[Intro: Mr. Talkbox]
"Loyalty" is the sixth track on Damn. The album is available for purchase on iTunes and can be streamed on Spotify, Apple Music and Tidal.
Mic has ongoing Kendrick Lamar coverage. Please follow our Kendrick Lamar hub here.