Boston Marathon Route 2017: Here's this year's course and the best viewing spots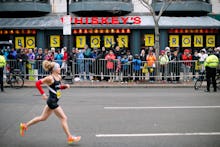 On Monday, the streets of Boston and its surrounding suburbs will be filled with runners competing in the legendary Boston Marathon.
The 26.2-mile race will follow its traditional historic route, the Boston Athletic Association notes, which kicks off in the town of Hopkinton and finishes in the heart of Boston.
Marathon Route
From the starting point in Hopkinton, runners will head down Route 135 and travel through the suburban towns of Ashland, Framingham, Natick and Wellesley.
The route will then continue through Newton Lower Falls on Route 16, before turning right onto Commonwealth Avenue and going through the Newton Hills — including the notoriously challenging "Heartbreak Hill."
From there, the course bears right on to Chestnut Hill Avenue, then at Cleveland Circle turns left onto Beacon Street. Runners will run into the town of Brookline via Beacon Street, passing by Coolidge Corner.
The marathoners will then pass through Kenmore Square — home to Fenway Park — and continue down Commonwealth. Finally, runners will turn right onto Hereford Street and left onto Boylston Street, reaching the end of their 26.2-mile journey in Boston's Copley Square.
The official route map for the Boston Marathon is available here. 
Where to watch
Spectators hoping to cheer on the marathon runners have plenty of spots to do so along the lengthy route. While the starting and finish lines are undoubtedly the most popular spots, those wanting a less-crowded view also have a variety of options.
For suburban spectating, Boston.com recommends camping out in front of the Newton fire station around mile 20, or heading to Wellesley to take part in the famous "scream tunnel," a tradition started by Wellesley students that gained momentum in the 1970s when women were finally allowed to run in the race. Those looking for something nearby that's a bit more low-key can head to the Route 128 overpass near mile 16, Boston.com suggests.
Veteran spectators cited by WBUR include Brookline's Washington Square in their suggestions, noting that the area is easy to manage crowd-wise and a good spot to see the runners. Competitor.com also points to Commonwealth Avenue between miles 19 and 20 as an ideal viewing spot for spectators wanting to avoid the bulk of the crowds.
Those who'd rather be closer to the heart of the city, meanwhile, can head to Kenmore Square, a spot that one spectator quoted by WBUR calls a "Patriots doubleheader," as the Red Sox will be playing at nearby Fenway Park starting at 11:05 a.m. Eastern. No matter where you stand, runners taking part in this 120-year tradition are sure to appreciate the support.