Thousands of assault claims in immigrant detention centers may have gone uninvestigated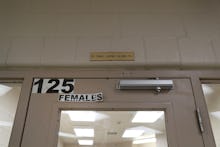 An immigrant rights advocacy group has filed a federal complaint accusing the Department of Homeland Security of failing to investigate thousands of sexual assault allegations from the country's immigrant detention centers.
The complaint alleges that of the 33,126 claims of sexual abuse, DHS has only investigated 570.
According to Fusion, the allegations span from January 2010 to July 2016 and include reports of assaults during medical examinations and strip searches, as well as rape perpetrated by guards and fellow detainees.
Community Initiatives for Visiting Immigrants in Confinement, the advocacy group that filed the complaint, said that the Office of the Inspector General would often send cases back to the offending agency's officials without instructing them to follow up.
"What we have learned from this federal data and from interviews with people in detention is that many of these sexual assaults are being perpetrated by ICE officers, contracted facility guards and even medical professionals," CIVIC co-executive director Christina Fialho told Fusion. 
Just in March, the American Civil Liberties Union filed a claim against a Customs and Border Protection agent who allegedly sexually assaulted two sisters after detaining them in Texas.
The elder of the two sisters, referred to as "Clarita" in the claim, said a CBP agent took her into a closet of sorts where he lifted her bra and groped her breasts before "forcefully" pulling down her underwear and touching her vagina. She said the agent then went into the same closet with her sister, who later emerged "crying and terrified." 
"What happened to us is NOT normal, it is NOT part of protocol and it is NOT legal," Clarita wrote in a blog post at the time. "No one, no matter the situation or their background, deserves to go through this."
DHS, which oversees Customs and Border Protection, Immigration and Customs Enforcement and other agencies, however, maintained the findings in CIVIC's new report are overblown. 
"Unfortunately, the report just released by [CIVIC] regarding purported sexual abuse and sexual harassment at ICE and CBP facilities is grossly inaccurate," DHS press secretary Gillian Christensen told Fusion. 
Christensen said the department will nonetheless look into the group's claims, but noted, "While ICE's goal is to prevent all sexual abuse among its custody population, given the volume of individuals who annually pass through its detention system, the agency believes the overall incidence of such activity is very low."