How long does the Boston Marathon last? Here's when most runners cross the finish line.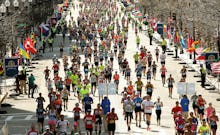 The 2017 Boston Marathon gets underway on Patriots' Day in Beantown Monday.
The race — which begins in rural Hopkinton and ends in Boston's Copley Square — took less than two and a half hours for the top finishers to complete in 2016.
But how long does it last for the rest of the more than 30,000 runners to make the turn down Boylston Street and cross the finish line?
Runners had to meet age- and gender-based qualifying standards just to participate in the 121st running of the race on Monday. Racers must be able to run a marathon in three to five and a half hours, based on their age bracket and gender, according to Runner's World.
The average finishing time in 2015 was three hours and 46 minutes, according to a statistical analysis. 
The event officially runs from 9 a.m. to 5 p.m. Eastern.
In 2016, nearly 97% of those who participated in the marathon finished the punishing race.
The 2017 race will mark four years since the Boston Marathon Bombing, which left three dead and hundreds wounded. The city is expected to honor victims of the attack on the anniversary of the bombing Sunday and at the marathon on Monday.