'Pokémon Go' Lucky Egg Sale: How to make the most of Eggstravaganza event savings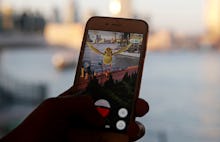 Pokémon Go's latest weekly event is an egg-themed bonanza. More Pokémon are hatching out of 2 and 5 km eggs, and you earn double XP and get more candy every time you hatch an egg. As a bonus, Lucky Eggs are 50% off in the Pokémon Go store, and their effect stacks with the passive 2x XP bonus, meaning you can earn 4x as much XP as normal.
If you're looking to make the most of this substantial reduction in prices, read on for more info about how to do so.
Pokémon Go Lucky Egg Sale: Purchase Lucky Eggs in bulk to make the most of the sale
So items in Pokémon Go cost PokéCoins, which you can either buy using an in-app purchase or gain very slowly from taking gyms and redeeming them at the top of the app store.
Assuming you're not already flush with PokéCoins from gym defense already, your best bet during the sale is going to be to buy Lucky Eggs in bulk. With the current prices, a single Lucky Egg will run you 40 PokéCoins. Not bad. However, a 25 pack will cost you 625 currently — about the equivalent of $6 in PokéCoins. It's a great deal, and if you're planning on trying to level up your trainer level as quickly as possible during the Eggstravaganza, it's worth your hard-earned dollars to pony up for the bulk buy.
Unfortunately, since you can only get PokéCoins from gym battles once every 21 hours, you're not likely to reach 625 coins within the time limit unless you take an average of 11 gyms a day, so keep that in mind.
Pokémon Go Lucky Egg Sale: Capture a lot of easily evolved Pokémon to increase your XP gain
If you're going to make the most of the Eggstravaganza's potential for a 4x XP yield, you'll need to capture a lot of Pidgeys. Every time you evolve a Pokémon, you get 500 XP — quadruple that for the passive Extravaganza bonus and the effects of a Lucky Egg, and you're getting 2000 XP a pop. If you're serious about it, do yourself a favor: Spend some time catching a bunch of Pidgeys and then use Pidgey spamming to give yourself a lot of XP very quickly.
Best of all, since all XP is doubled for the event, you'll be making anywhere from 200 to 400 XP on an average throw, assuming you catch a Pidgey on your first try and manage to get a Great Throw bonus. Each of these is worth 50 extra XP, which when doubled and added to the 200 XP you're getting for just catching the Pokémon, can help you get some levels very quickly.
You've got until April 20 at 4 p.m. to utilize this quadruple XP buff, so good luck and happy Pidgey hunting.
More Pokémon Go guides, tips and tricks
If you're booting up the game for the first time in a while to get ready for Gen 2, be sure to check out Mic's guides on how to get stardust, how to determine how long it will take you to reach level 40, the kind of Pokémon you get from 10-kilometer eggs, how to create new PokéStops, how to maximize your chances of catching Pokémon and how PokéStops distribute Pokémon eggs. Also check out how to catch Gen 2 baby Pokémon, our analysis of post-balance update Chansey and Rhydon and everything you need to know about finding the long-awaited Pokémon Ditto.