19 female-owned beauty brands to obsess over ASAP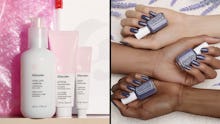 Now more than ever before, the feminist movement has taken center-stage in both the media and politics. But, support for women and the feminist movement goes beyond the picket line and protest. Support for the movement extends into everyday life through the brands you purchase from.
In 2015, 9.1 million companies were owned by a woman, 2.9 million of which were owned by women of color, according to a report by the National Association of Women Business Owners. Let's help raise that stat by continuing to support female-owned (or founded!) businesses.
We've rounded up 19 beauty brands that are owned or founded by women. Stock up on these beauty products, made by women for ... well ... everyone.
Known for their organic, vegan, cruelty-free products, Erin's Faces should be a staple in everyone's beauty routine. The brand was started by Erin Williams with an emphasis on empowerment and self-worth.
If you're not sure what product to try first, we highly recommend the Chocolate Sugar Body Scrub.
Founder and CEO of Glossier, Emily Weiss, is a badass business woman. Not only did she create a makeup empire with her millennial pink products and minimalistic Instagram aesthetic, but she also runs a super successful blog, Into The Gloss.
Both of these endeavors started as side hustles while she worked at Vogue — and now, less than a decade later, her brands are worth millions.
Founded by Nadine Cormier and Sandra Anderson Diaz, Nu Evolution is a cosmetics company dedicated to healthy, non-toxic products. Nu Evolution products are never made with parabens, propylene glycol (aka industrial antifreeze), or other harmful toxins that can have negative health effects.
Thanks to their dedication to creating "clean products," Nu Evolution is quickly making a name for themselves as a natural beauty alternative.
If you're looking for a line of colorful cosmetics that are cruelty-free and non-toxic, search no further than Winky Lux. Co-founded by Natalie Mackey and Nathan Newman, this brand is bright, bold and unapologetically beautiful.
Although the company is best known for their fantastic collection of Lip Velour lipsticks, we're absolutely obsessed with Winky Lux's latest release: Double Matte Whip Liquid Lipstick.
The bold lip color goes on silky and doesn't try out your lips like other liquid lipsticks seem to do. And, in the words of Mackey herself, "Why pay more for a luxury experience?"
With the goal of selling healthy, chemical-free products in mind, Josie Maran created a cult beauty brand that pretty much everyone seems to be obsessed with. From the deliciously scented body butter to the famous Pure Argan Oil, Josie Maran products never fail to deliver.
Oh, and did we mention that the company uses eco-friendly packaging and is dedicated to empowering women by sourcing their responsibly harvested ingredients from all-female co-ops in Morocco. Talk about awesome.
Champagne. For your hair. Need we say more? Founded by Rachel Katzman, this miracle hair product makes your hair look like a supermodel's. No, seriously. Who knew champagne was the key to keeping your hair looking soft and shiny?
Founded by duo Jaz Fenton and Jamil Bhuya, YLLO is a beauty brand known for their turmeric scrub. "Inspired by Indian traditions, YLLO naturally fights acne, evens out skin tone, reduces rosacea, and fades acne scarring," Fenton said in an interview.
In fact, the product only has 7 ingredients, each of which is all-natural, vegan and cruelty-free. The company is also dedicated to giving back to the community by donating 10% of all profits to Plan International Canada's Hatibandha Project.
Lavanila's brand is committed to making products from natural, organic ingredients. You won't find and harsh or toxic chemicals here.
The brand was founded by Danielle Raynor, who had a desire to create a line of products that were "better, safer and smarter." If you're looking to try a specific product from Lavanila, we'd highly recommend their healthy deodorant. It's a game changer.
Drybar is known to many as the go-to salon for a killer blow-out. Founder Alli Webb said she started the brand out of personal necessity. "Growing up with naturally curly hair set me on a life-long journey to figure out how to perfect my own personal blowout and tame my crazy hair," she said.
Since founding the haircare empire, Webb's company has started to release a number of fantastic hair products. Most recently, Drybar released their Detox Whipped Dry Shampoo Foam — an honest-to-God miracle product. It gives your hair a full refresh in just a matter of seconds.
Heritage1933 is, by far, one of our favorite new beauty brands. A representative for the brand said that founder Latoya Thompson was inspired to create her line of beauty products after living in a homeless shelter, where a majority of the products donated to the facility didn't support women of color.
Thompson created a line of natural-based products that support WOC, and "challenges the narrow perception of beauty." The for-profit business donates a portion of funds and products to shelters and encourages people to become advocates to help change the narrative of what homelessness looks like.
Founded by celebrity manicurist Deborah Lippman, the beauty company that bears her name is one of the most renowned in the manicure world. Lippman's products are some of the best in the industry, known for their uniqueness and durability. In the past, Lippmann has created customized polish shades for celebrities like Lady Gaga and Sarah Jessica Parker.
"Starting your own business is harder than I ever imagined. It's also the most incredible journey I've taken," Lippman said in an email. "There have been so many triumphs and moments that have taken my breath away since starting my own business."
In addition to being a badass #GirlBoss, Lippman says she is "amazed and humbled" to have her husband and brother working by her side for the past 15 years. She hopes her company will remain "on the cusp of modern technology and creativity" — and we do, too!
Get ready to obsess over Pacifica, a 100% vegan, cruelty-free beauty brand. Started by Brook Harvey-Taylor and her partner Billy Taylor, the company has quickly become known for its all-natural products.
"I started this brand because I really wanted to make a difference in the world," Harvey-Taylor said. "I think it is everyone's responsibility to contribute to making someone's life better, or the environment better or creating some sort of positive change."
Harvey-Taylor says being a girl boss is hard, but surrounding yourself with "a magical team" will make everything alright in the end. "We need to rely on each other to create greatness in our lives. No one can do it alone."
She says, of course, that doing what you love and are passionate about is the best part of her job. "Even if you don't own your own company, every woman should work to do what they love."
Although originally a fragrance company, Pacifica has since expanded into the cosmetics world, with a full line of natural products at the ready. Wondering what we're currently obsessed with? It's Pacifica's sunscreen! This amazing product is available exclusively at Target and will be released May 14.
Tiffany Masterson is the genius mind behind the ever-popular brand Drunk Elephant. With a masterful line of safe, non-toxic products, it's easy to see why D.E. became so popular in just a short amount of time. D.E. proves you don't need toxic chemicals to make a high-quality product. Clean and safe is the way to go.
All right, all right, technically Birchbox is a beauty subscription service, but we can't help that it's the best thing ever. Co-founder Katia Beauchamp said she helped start Birchbox because she was fascinated by the economics behind the beauty industry.
"We had a big vision — to change the way people discover and shop for beauty online — and our idea was to leverage the subscription to build a relationship with our customers, introduce them to new products, and get them to shop for beauty online with us," Beauchamp said. "We didn't invent samples, but we figured out how to put the customers' needs first and serve them on their own terms: personalized and delivered right to their doorstep."
Each month, Birchbox sends you samples 5 of the best products on the market. It's a simple way to try new products without spending a ton of money. Subscriptions are currently priced at $10 a month. You can sign up here.
Established by badass Latina tattoo artist Kat Von D, this beauty line is a powerhouse for all things big, bold and beautiful.
From the impressive range of colorful (and long lasting) lipsticks to the magical Lock-It Concealer, Kat Von D Beauty offers affordable products that actually work. This company consistently delivers quality cosmetic items – many of which are vegan. Hooray!
A company best known for its "less is more" philosophy, it's not a surprise that Tatcha products have become some of the best on the market. Victoria Tsai founded the company shortly after a visit to Kyoto, Japan.
Since then, her business has worked with scientists in both the U.S. and Japan to create products that really work. The newest product, Water Cream Moisturizer, is an oil-free, anti-aging creation meant to help nourish and improve skin.
In addition to believing that "beauty begins in the heart and the mind," each purchase of a full-size item from Tatcha helps fund a day of school with Room to Read's Girls' Education program. Thus far, Tatcha has helped fund over 1 million days of school.
Jen Atkin, whose hairstyling prowess has graced the heads of Chrissy Teigen and the Kardashian-Jenners alike, created OUAI as a luxury haircare line that everyone can use.
Yup, you can get model-esque hair with just a few products. New to OUAI? Try their newest product, Rose Hair & Body Oil, which is set to be released soon!
Co-founded by Carmen Tal, Moroccanoil has made a name for itself as a leader of the argan oil revolution. Tal's oil-infused haircare products are some of the best in the beauty industry.
From the Original Treatment to the Dry Shampoo, there's seemingly nothing Moroccanoil can't do. That being said, the primarily hair-focused brand will be releasing two new products on May 15 to complete their Morrocanoil Sun Collection. Just in time for summer!
The mastermind behind nail polish brand Essie is the brilliant Essie Weingarten. Although the brand has since sold to L'Oreal, Essie continues to create vibrant colors and eclectic collections everyone can use.
We're currently head-over-heels obsessed with Essie's "Wild Nudes" collection, which features nine colors from light tan to a cinnamon brown. Head over to Essie's Instagram to see what colors from this collection like on different skin tones.
Oct. 31, 2018, 12:34 p.m.: This story has been updated.