11 apps to help you organize your messy life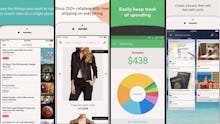 If adulting is becoming a little too hard, look no further than your smartphone to get your life together. With countless apps available, users can get on top of their personal, professional and financial life with a few helpers. Below are 11 apps to help bring order into your life.
For things to do: Wunderlist
This things-to-do list app lets you keep track of what needs to be done, provides reminders via recurring notifications and allows you to share lists and assign things for others to do. Never forget any task in any part of your life with Wunderlist.
For projects: Trello
Any project — personal, professional, communal — can be organized and collaborated on with Trello. The app lets you create boards with lists for better organization. You can add people to tasks, create deadlines, add files or even comment. The collaborative element makes it perfect for when you have to work with others.
For prioritization: Priority Matrix
Suck at knowing what to do when? If you're guilty of procrastinating on a time-sensitive task for something with no deadline, then this app is for you. Priority Matrix lets you split your things to do (whether it be work-related or home) into four categories: critical and do now, critical and do later, delegate and uncategorized. This will help direct your tasks based on what is essential versus what can be done later.
For unsubscribing: Unroll me
A cluttered inbox can be anxiety-inducing, and the buildup can happen quickly. Instead of manually unsubscribing to junk emails, use Unroll.me to stop receiving emails with a click of a button. You can even curate a "daily digest" email that sends you a roundup all your selected subscription emails in one condensed email a day. What you don't unroll from or select for the daily digest will remain in your inbox.
For finances: Mint
You can manage a bunch of different financial platforms, or you can head over to Mint to get a total overview of your finances. The app tracks your spending, lets you build budgets, helps you track and pay bills and gives you your credit score for free.
For health: MyFitnessPal
Log everything you eat to get a better idea of your consumption profile. By tracking your intake on MyFitnessPal, you can look back at what kind of foods you ate and even make lifestyle modifications. The app also allows for tracking activity.
For passwords: LastPass
Never forget your password with LastPass — a vault for all your logins and passwords. The app lets you create online shopping profiles, helps you come up with strong passwords and you can sync it with all your devices for free. The only thing you have to remember: your LastPass password.
For reading: Pocket
Got a lot of reading but not enough time? Pocket can help. This bookmark service lets you save stories online on one clean interface. The best part? You can come back to read the content with or without WiFi. The app also curates a list of recommendations based on your interests.
For social media: HootSuite
Manage up to three social media accounts (between Twitter, Facebook, Instagram and LinkedIn) on Hootsuite for free. You can schedule posts in advance for later and get info on engagement within the app as well.
For shopping: Mona
Created by former Amazon employees, Mona is your personal shopper. Using artificial intelligence, Mona learns what you want the more you use it. This app can let you know when something you've been eyeing goes on sale by scanning hundreds of sites.
For household work: Handy
Whether you need a professional to really scrub down your home or you need a handy(wo)man to fix up your place, this app lets you delegate the task. Instead of letting things take their natural course, procrastinating or doing a half-baked job, let the Handy app find someone to help you if and where you need help.