7 marijuana edible recipes you can make in your slow cooker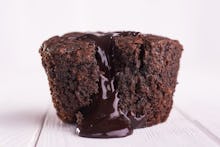 Your slow cooker is good for many things: Making soups while you sleep, preparing a one pot meal when you're out all day at work, cooking up something delicious when you'd rather be outside than in the kitchen.
But have you ever considered using your slow cooker as a machine to make edibles? It works. Plug in that slow cooker and let your infused foods cook while you spend your time doing something better than monitoring a hot pot. Find some tasty recipe inspiration below.
Slow cooker cannabis-infused butter
The base for pretty much all baked edibles, make a big batch of this infused butter in your slow cooker and you'll come home to the easiest, best infused butter. Slab it on toast or mix it in your favorite recipes to make them extra "special." The world is your oyster. Get the recipe here. 
Slow cooker cannabis oil
Maybe you're dairy free or using an edibles recipe that calls for oil, or you just want to try something new. Either way, this oil slowly infuses in your slow cooker so it's ready for cooking when you return to your kitchen hours later. Get the recipe here. 
ABV cannabutter
ABV (Already Been Vaporized) weed gets a second life in this slow cooker cannabutter recipe. Why waste? Get the recipe here. 
Slow cooker chocolate lava cake
Put that cannabis oil to good use with this decadent slow cooker chocolate creation that uses both cake mix and pudding mix. You could pretty much make it in your sleep. Get the recipe here. 
Cannabis-infused BBQ sauce
That cookout just got so much better with this slow cooker BBQ sauce — you can literally slather on anything. Fingers included. Get the recipe here. 
Canna-milk
This isn't your average hemp milk! Drink this milk with a straw or add it to cereal or pretty much any recipe for a special buzz. Get the recipe here. 
Cannabis-infused honey
Be forewarned: This sticky recipe will make cleaning out your slow cooker a challenge (try a liner), but the sweet results of having slow-cooked infused honey are totally worth it. Get the recipe here.