Who is Zacari? 3 things to know about newcomer featured on Kendrick Lamar's 'Damn.'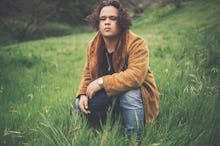 Six seconds into Kendrick Lamar's "Love.," Zacari's calming falsetto floats in. "Give me a run for my money/ There is nobody, no one to outrun me," Zacari croons on the chorus. The singer brings a soothing effect to the slow-rocking cut from K-Dot's new album Damn.
Zacari is the newest artist enlisted for Lamar's new opus, which also features two well-established artists — Rihanna and U2. Before today, many may not have known Zacari's name, but thanks to Kendrick Lamar this may now change. To those wondering who the singer-songwriter delivering the soft vocals on the mellow track is, here are three things to know about Zacari, the newcomer featured on Kendrick Lamar's Damn.
1. He met Kendrick through mutual connections.
Zacari met Kendrick Lamar through his manager, Moosa Tiffith of Top Dawg Entertainment, according to Pitchfork. Lamar heard Zacari's vocals on Isaiah Rashad's The Sun's Tirade and was interested in hearing more of his music. Zacari described to the outlet how he pitched "Love." to Lamar, who eventually chose the track for his album:
I met Kendrick after 'The Sun's Tirade' came out. I was in the studio with [producer] Teddy Walton, who's doing a lot of my project as well. Moosa was telling me he'd get me a session with Kendrick soon, so we were getting ready for that. We got it in with him, and that's pretty much based off 'cause Kendrick heard me on 'The Sun's Tirade' joint. So he was like, "Yeah, fo sho. Bring that guy through." It was me and Teddy, we went in, Teddy played him some beats, and then Kendrick asked me to play him a few of my songs, and I think I played him about four songs. The last song I played was the one that he ended up picking up.
2. He's collaborated with other TDE artists in the past.
Although his placement on Kendrick Lamar's album might be Zacari's most known feature to date, the singer has worked with other artists on the Top Dawg Entertainment label in previous years. Zacari appears on Ab-Soul's "RAW (backwards)" off the album Do What Thou Wilt. He's also featured on Isaiah Rashad's "Wat's Wrong" with Kendrick Lamar on the 2016 album The Sun's Tirade.
3. He's been growing a steady fan base on Soundcloud.
Zacari currently has 11,500 followers on the streaming site. One of his most popular tracks on his page, "Foggy Windows," is a house song with over 544,000 plays.
Mic has ongoing music coverage. Please follow our music hub here.